The Cannery's Salmon Wellington
Posted by Andrea Busse on Wednesday, December 28th, 2011
Tags for this Article: Cannery, Duxelle, salmon, vancouver, Wellington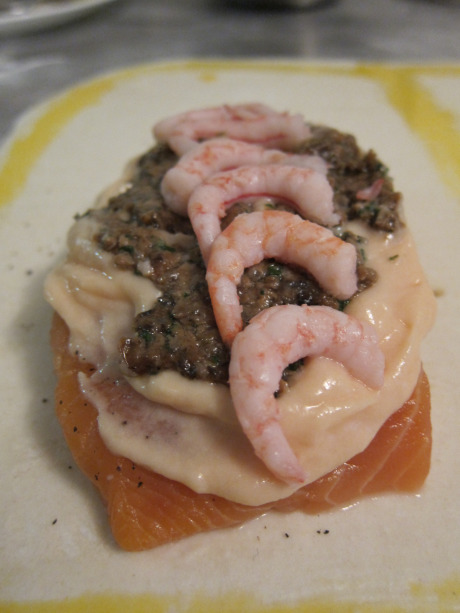 As you've no doubt heard, The Cannery, an iconic Vancouver restaurant for 38 years, has closed its doors. All that is left on their website is the announcement of the auction that will be selling off some of the maritime antiques. It is sad, but I did find their recipe for Salmon Wellington online. So, if you offer to help with the puff pastry, then maybe I can make this for you at my place! You won't be able to arrive at my place via float plane, but it just might have to do.
As Degan confessed in her beef wellington post, it is hard to make! Although, when I showed the recipe to Mark, he said, "Easy! Just make a duxelle, the mousse, and then do the puff pastry. When it is baking, then you can just whip up the pinot noir butter sauce. You can do most of it ahead of time." Sure – I'll just do 6 hours of work ahead of time.
But, not to be intimidated by a recipe, I set out to Finest at Sea to get my salmon and was on my way. Don't be overwhelmed by the long recipe –  it actually wasn't hard. It just took some time. And the results were well worth it.
*Note: Since posting this in 2010, I've made this a couple times, and have had to tweak the recipe so it actually works… I've added some detail to the original recipe and have tested the results. Delicious. (Serves 4)
Ingredients:
4 pieces fresh spring salmon fillet (skinned and deboned)
1 package puff pastry (yes, I cheated!)
2 oz baby shrimp
1 egg yolk and 2 tbsp milk whisked together for egg wash
Duxelles:
2 oz button mushrooms
1 oz foie gras or chicken liver diced
1 medium shallot
1 tbsp chopped parsley
1 tsp butter
1/2 tsp dried thyme
1/4 c sherry, vermouth, or dry wine
salt and pepper to taste
Fish Mousse:
2 oz salmon
2 oz whipping cream
pinch of salt
1 egg white
Sauce:
1/4 lb butter
1 c pinot noir wine
1 c whipping cream
1 medium shallot
1/2 tsp honey
2 sprig fresh thyme
Preparation:
Mushroom Duxelles:
Finely chop the mushrooms in a food processor. Place mushrooms on a clean dry towel (not terry towel, and use an old towel as this will stain it). Twist the mushrooms in the towel to remove any water. You want them as dry as possible. Heat 1/2 tsp butter, add the mushrooms, shallots, foie gras (or chicken liver), thyme, salt and pepper and saute for a few minutes until brown and dry. Add the other 1/2 tsp of butter and once that has melted, add the sherry and cook until the sherry has evaporated.
Let cool for a few minutes and add the chopped parsly and mix. Place on a plate and keep refrigerated until needed.
Fish Mousse:
In a clean food processor, place the 2 oz salmon, add the salt and chop the salmon into a very thin mousse. Add the egg white and mix. Slowly add the 2 oz of cream and mix for one minute. Be careful not to over mix, the mousse will split. Remove mousse from the food processor and place in refrigerator until needed.
Salmon Wellington:
Flour a dry counter or marble, and roll the puff pastry into a rectangle (8″x10″). You will need enough dough to fold over the length of the salmon and make a seal. Evenly space the salmon fillets along bottom edge of the puff pastry. Leave a margin of pastry at edge to seal the Wellington. Season with salt and pepper. Spread 2 tbsp of mousse evenly over each fillet. Spread the duxelles evenly over the salmon fillet to coat it and keep it moist. Top it with shrimp meat. Brush the edges of the pastry with egg wash, taking care not to touch the salmon.
Fold puff pastry forward to completely cover salmon. Cut pastry between fillets. Press the edges together with a fork to seal and make a decorative pattern. Trim edges. Prick the pastry top to allow air to escape while baking. Place the Wellington on wax paper over a baking tray. Brush the top with egg wash. Bake in a preheated 400F oven for 15 minutes then turn the heat to 375F for an additional 15 minutes.
Pinot Noir Butter Sauce:
Place the chopped shallot in a saucepan over medium heat. Pour in the red wine and honey. Reduce until almost dry and add the cream. Reduce 1 cup cream to half and turn heat to low. Slowly whisk in the butter. Whisk constantly until butter is fully combined in reduction. Pour the sauce through a strainer into a clean saucepan. Adjust the seasoning and serve with the Wellington.
So maybe I can make the Salmon Wellington at home, but we'll definitely miss the Cannery's ambiance.