Oeufs en cocotte
Posted by Eagranie Yuh on Monday, January 5th, 2009
Tags for this Article: Breakfast, brunch, eggs, salmon, toast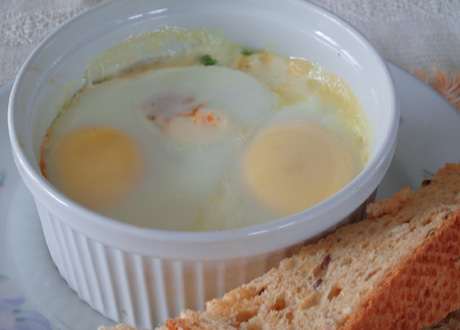 I love eggs. Scrambled, fried, poached, boiled, on toast, in quiche – you name it, I love it. They're a great when you're in a hurry, but also when you're faced with a lazy weekend. If it's the latter, I highly recommend that you make oeufs en cocotte. Hidden underneath a layer of softly cooked egg, cream and butter is a savoury surprise of your choosing. I like smoked salmon, capers and chopped green onion, but you can use anything that you want.
For one egg, use the following recipe and 4oz (1/2 cup) ramekins. For two eggs, as in the picture above, double all the ingredients and use 6 oz (3/4 cup) ramekins.
Preheat your oven to 350F. Collect your ramekins and find a baking dish that will accommodate all of them comfortably. There should be some space between them, and they must sit flat in the pan.
In order to get such a delicate texture, the eggs are gently cooked in a water bath. You'll need hot water for the water bath, so you might as well put the kettle on now. You need enough water to come halfway up the side of your ramekins. 
Lightly butter the ramekins, and then place whatever goodies you want in the bottom. My smoked salmon concoction is pretty tasty, but you can do an Italian twist with sundried tomatoes, olives and artichoke hearts. Use whatever you like – the possibilities are endless.
Crack your egg on top of the goodies. Lightly season it with salt and pepper. Drizzle it with 1 tablespoon of heavy cream and a dot of butter.
Place a damp tea towel in the bottom of your baking dish, and put the filled ramekins on top. You want to cook the eggs gently, and the towel ensures that your ramekins aren't in direct contact with the hot pan. Take your baking pan to the oven and set it on the baking rack. Being careful not to burn yourself, pour in enough hot water to come to halfway up the sides of the ramekins.
Bake your eggs for 12-15 minutes, until the whites are set and the yolk is still slightly soft.
These are delicious on their own, eaten with a spoon. However, if you're looking for something to do while your eggs are baking, toast some multigrain bread, butter it, and cut it into toast soldiers to serve beside your oeufs en cocotte.