Push Once, Repeat
Posted by Miles Harrison on Sunday, January 29th, 2012
Tags for this Article: Andrea Carlson, Police, secret, Soiree, Swallowtail, vancouver, winery
You have to wonder how Robin Kort from Swallowtail has the reoccurring ability to find obscure Vancouver venues to stage her Secret Supper Soirees. If she ever needs a new career I'd certainly endorse her as a location scout for the film industry. Her Swallowtail secret dinners are like going to a movie — in 4D with Taste-O-Vision. It's this escapism that keeps me coming back to these decadent, imaginative, alternate universe dinners.
Tonight she set the stage for 30s Vancouver. Hardboiled gumshoes, cops'n'robbers, forbidden booze-can speakeasys and dangerous dames. The story began like a lot of pulp fiction stories, at the city's bus terminal. In Vancouver that means the Pacific Central Station.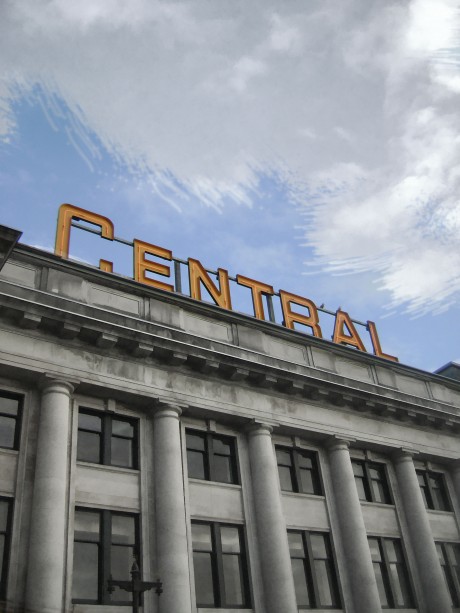 This nostalgic era is ghosted everywhere in this city if you know where to look. A world all around us yet shadowed in the past so that one can never get it back, unless you are willing to suspend reality. Hey, isn't that what weekends are for? Your vehicle of change for this evening is a funky old pink double-decker bus. Now doesn't that just say "WTF" already? It jars you just enough to upset the balance of your universe and goads you in to stepping onboard. You don't make the decision to get on one of these things everyday, so when you do, you must be prepared for a few surprises. Deeper and deeper we spiral into this diabolical plot. Just enough out of our comfort zone to be slightly uneasy, then once the edge is taken off any fear, another level of the evening's depths presents itself and we must take another step deeper into the abyss of time…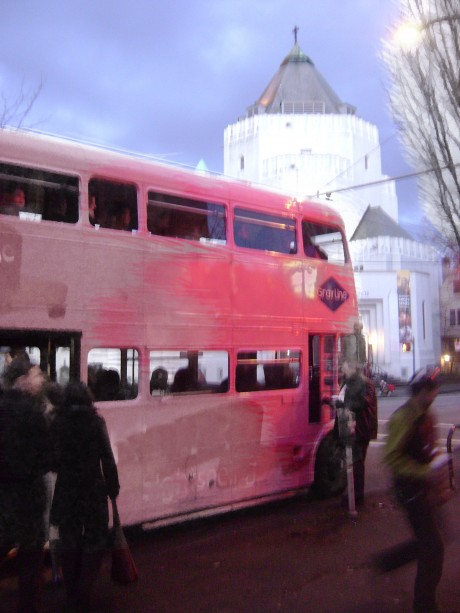 Who here can resist such temptation? The beckoning button of change… Dare to cross the threshold. Go on, close your eyes and press it. Who knows what will happen? You see the thing with buttons is, sometimes you can only push them once. Muahahahaha!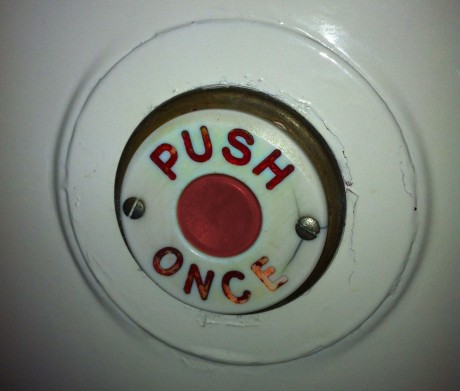 I did manage to suppress not only my urge to press that button but also that cheesy annoying Vincent Price voice in my head.
The first secret location turned out to be the old police headquarters's "Coroners Court" building, now the home of the Vancouver Police Museum. The space is a bit creepy but hard, gritty and oozing with just the right amount of immersive themeing to take us all back to the seedy underbelly of the old downtown. I was now thoroughly entrenched in the past. Near the back, in the "wet room" of the morgue exhibit (which actually really was a fully functioning morgue), we were offered a Pimms Cup cocktail to steady our nerves. It seemed as though things were going to get, shall we say interesting…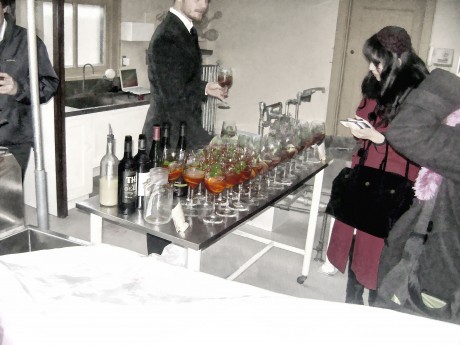 As we made our way through this amazing collection of crime scene vignettes, I found myself with a glass beaker in my hand — "The blood of bulls" ( Salad – Beets with blood orange granite, mint and pomegranate ). Gruesome for sure, but a great combination of flavours.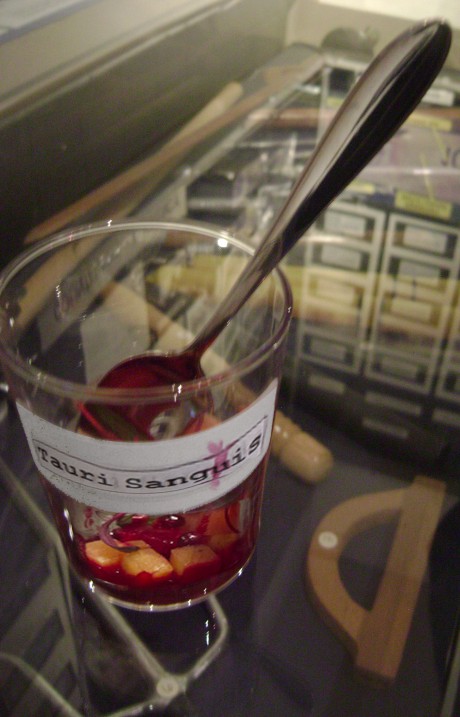 ..and then a steamy Erlenmeyer flask filled with Tomato consomme, pickled cauliflower and Hijiki seaweed. I found this one a little too acidic and not as pleasant a flavour palette, but full marks for the creativity.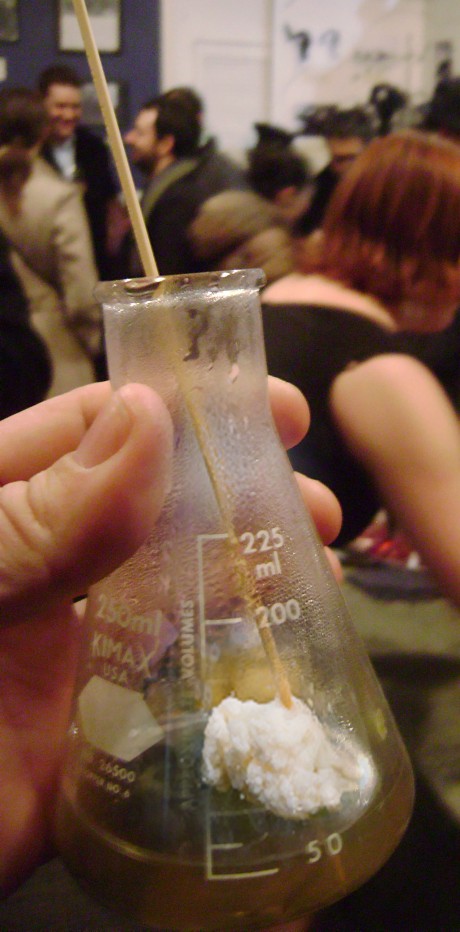 Whisked away once more on the bus-that-time-forgot we disembarked a few blocks away at the new Vancouver Urban Winery. This moody setting will be selling wine on tap in the near future. Tonight it was our speakeasy. We stepped into this Hopperesque painting…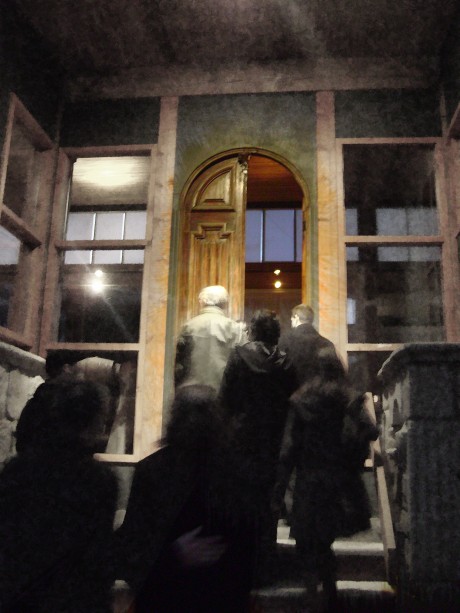 …to discover rows of tables in a large hall. Bar at one end, and between one wall of wine kegs while the other wall ensconced a row of stainless steel vats where the wine will eventually be vinted and sealed into beer-like kegs. Kegging wine will allow establishments the ability to sell good quality wine by the glass without having to mark it up for potential incurred wastage. Within 3 months the winery portion of this venue should be in full swing but the room itself is already booked on the weekends for the entire year.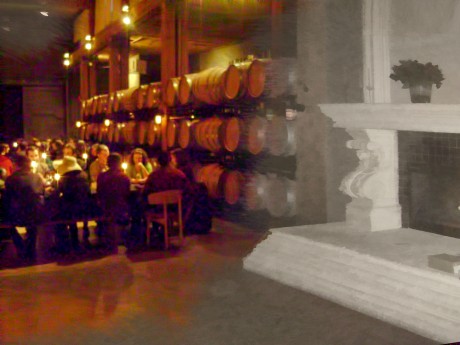 The evenings food was prepared by Dubrelle Culinary School grad, now Executive Chef at Bishops Restaurant, Andrea Carlson. Her much appreciated passion for local, organic ingredients grown and produced in a sustainable manner showed through on this parade of plates:

Poached Hen's Egg on crostini with Forest Mushroom salad and red wine reduction. Paired with 8th Generation Pinot Noir 2010. Ya gotta love wild mushrooms and this egg trend is fun and delicious, but is it getting out of hand?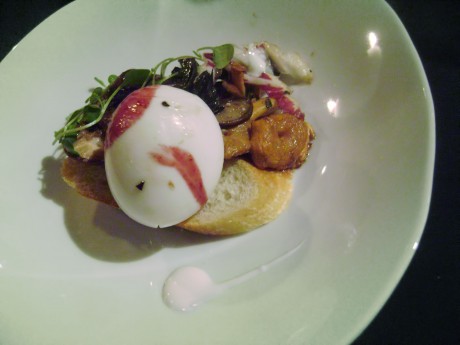 Pitt Meadows flat iron steak with potato pave, root vegetables and a mountain huckleberry & rosemary jus. Paired quite nicely with my favorite wine of the evening, Therapy Syrah 2008. A good and appropriate meat and potato interpretation. The texture of the pavé felt a little like forking through a heavy pastry, a nice surprise when dealing with a typical heavy potato.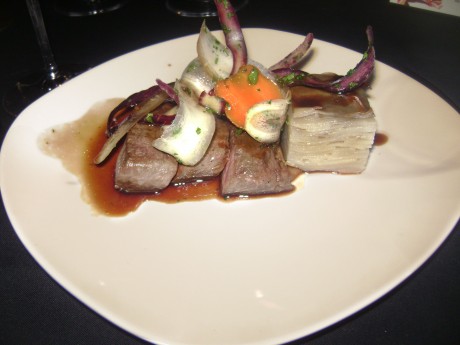 Riesling baba, orange blossom semifreddo with pistachio and persimmon. Paired with Naramata Lang Vineyard's Off Dry Riesling 2008. The Baba was quite sweet on it's own but taken with the cool creamy semifreddo it was an endearing finish to the meal. An amazingly pungent floral explosion.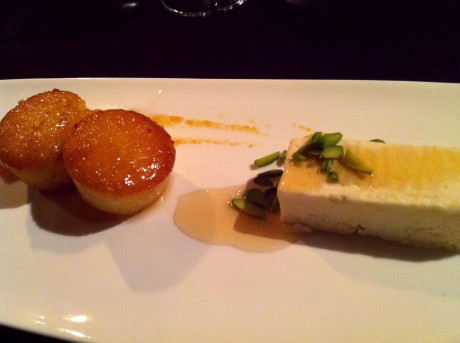 The dessert played out with a quartet of Lindy dancers scampering around the room in perhaps a weak attempt to get us all on our feet but more probably to reinforce the illusion yet again. After a few parting conversations and comparing notes with fellow tweeters, we all dissolved silently into the streets of the city.
I can't "unpush that button" or ever relive that exact evening but… Swallowtail always seems to present that button to repush, swirling time, altering our perceptions and allowing us to play inside memories we never knew we even had.