Contest: Who likes Muesli?
Posted by Ben Garfinkel on Monday, June 4th, 2012
Tags for this Article: Breakfast, contest, Dorset cereal, muesli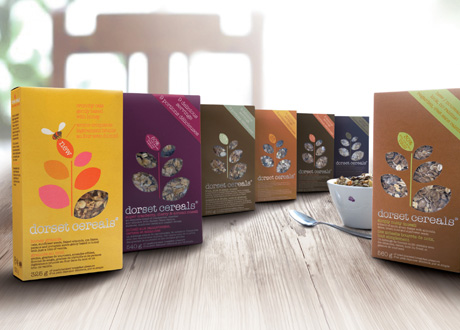 I think my mother once tried to serve us muesli when we were kids. This was back in the day when Cheerios and milk was our standard and anything else for breakfast was considered sacrilege. You want me to put yogurt in my what? It wasn't until years later, after university, while trekking through Europe that I truly 'found' muesli. Or rather, it found me. Seems it's quite the breakfast staple over in Europe and it was that or starve until lunch if I wanted the free hostel breakfast. Who knew?
I'm worldly now, and always happy to mix it up for the first meal of the day. Thing is, not all muesli is created equal. I'm sure all of us have had our experiences with bland as paper, dusty old oat-y cereal that has you swearing off the stuff yet again, or for good. Enter Poundbury, England cereals company Dorset Cereals. We just received a box of each of their seven cereals (one is a granola). Let me say this: even if you hate muesli, if you have any kind of designer bone in your body, you'll love the brightly coloured packaging with the clever window cut out of the logo showing the contents. Nice silver foilstamp too. People are going to buy this just to make their kitchen counters look good, I'm sure of it. Thankfully, that's not the only good thing about them. You're probably thinking, "Muesli, hell, I can make that! I'll just toss some nuts, oats and raisins together.". That's a little like thinking you can mix corn, rye and water and make your own bourbon. On second thought, that might be exaggerating things a bit, but still, according to them:
We don't just throw our ingredients together, we balance and blend them carefully using our knowledge of what tastes delicious.  We don't scrimp, we make sure our recipes are stuffed full of fruit, nuts and seeds. We don't forget the flakes—they get as much attention as the fruits. The result is a really tasty breakfast that's rich in whole grains, provides a good source of fibre and contains no added preservatives.
I especially like the extra window on the box side with the comment "Look, no dust!". A clever way to get you to think about the product quality and something I personally never considered until they mentioned it. They've also got some snappy writing and Okay, so how do you get some in your bowl? Well, looks like London Drugs, Superstore,Thrifty Foods, HY Louie (that's IGA) stock it. However, the folks at Dorset have kindly provided a gift basket valued at $150. It includes:
Wicker picnic basket
The full line of Dorset Cereals available in Canada—seven tasty recipes
Cereal bowl
Colourful placemat
Spoon
How to win (contest is open to residents of Canada only):
If you're feeling lucky, and writerly this week, comment on this post on tell us a story about dads and breakfasts (It is Father's Day this coming weekend after all!).
And/or, tweet the following:  
Amused by muesli? Enter to win a $150 @dorsetcereals gift basket @Foodists — http://foodists.ca/?p=15550
We'll draw from all eligible entries received by Friday, June 15th.