Contest: Spread the Love this summer.
Posted by Mark Busse on Wednesday, August 15th, 2012
Tags for this Article: Breakfast, cereal, contest, granola, Love Crunch, summer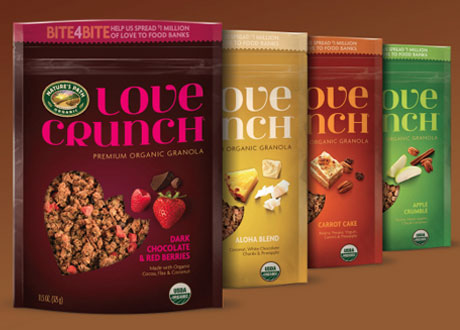 Labour Day long weekend is around the corner, signalling the end of summer 2012. Vacations are ending, kids are back to school, and it's time to get back into routines again. And for many that means reconsidering some eating habits picked up over the summer holidays. Enter Love Crunch, by organic cereals and granola producer Nature's Path.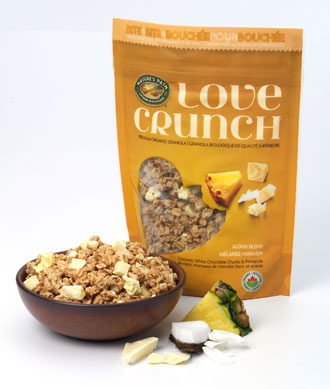 Having recently been redesigned with slick new packaging, the cereal inside is worth a closer look. According to the company, Love Crunch Granolas are USDA certified organic, containing no preservatives, additives or pesticides, as well as Non-GMO Project Verified. I think we can all agree this is healthy choice for breakfast or a snack.
We tried some samples here at Foodists HQ and liked them, although as a stand alone cereal, they leaned a little on the sweet side for our tastes. A full bowl seemed rather decadent, which makes sense if you consider that Nature's Path markets the Love Crunch line as a "Premium Organic Granola" as opposed to a standard cereal. Sprinkled on yogurt or fruit, and Love Crunch is the perfect breakfast or healthy snack.
It's been a hot summer for many of us, with lots of fun summer memories and food adventures, so let's give away a big basket of Love Crunch.
HOW TO WIN(contest is open to residents of Canada only):
Comment on this post on tell us a story about your summer food adventures and/or tweet the following:
Spread the Love this summer! Tell your summer food adventure story to win a @NaturesPath gift basket from @Foodists http://foodists.ca/?p=15917
UPDATE: Congrats to Mojgan (@somethinglemon) who's our winner of the @NaturesPath basket for her story of exploring food across Canada. Enjoy your yummy granola Mojgan!