InDish Delivers
Posted by Andrea Busse on Monday, June 7th, 2010
Tags for this Article: cooking, duck, home cooking, Indish, yarrow meadows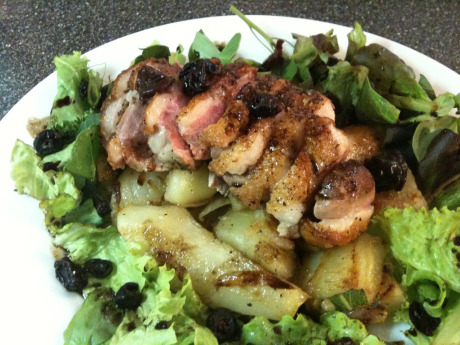 Ever have one of those days where you want a delicious meal, but you don't feel like going out, and you don't have anything good in the fridge? Instead of trying to be overly creative to turn a can of tuna and a jar of peanut butter into a gourmet meal, or taking an extra hour to go get groceries, we turned to Indish.
Indish did all the hard work for us – sourced fresh, local ingredients, researched gourmet recipes, and did all the cleaning, chopping, and portioning for us. They even recommended a wine pairing to go with the dish and gave us a coupon to buy that wine at Liberty Wine Merchants. All we had to do was follow the idiot-proof recipe, cook and assemble the dishes. It really could not have been easier.
The dish we got was Yarrow Meadows duck breasts set on pan fried potato and onions surrounded by fresh greens with a cherry balsamic vinaigrette reduction. From walking in the door to putting the plates down on the table to eat, it took 25 minutes. That's it! What I really liked about it was that I could see and had control over what went into my cooking. There were no mystery additives or pre-made sauces – just fresh and local ingredients. Also, with traditional take-out food, there is always the garbage can full of styro or other take-out containers that are so bad for the environment. The food came in a simple paper bag with minimal packaging inside. Check out our pictures.
If you are ever out of time, need inspiration for something new, or want to trick your dinner guest into thinking you did it all on your own, I'd definitely try Indish. If you can't make it to one of their two locations, you can even have them deliver it to you. Could cooking be any easier?