What Do You Believe In? (Nice To Meet You!)
Posted by Karen Pinchin on Wednesday, August 22nd, 2012
Tags for this Article: food writing, Foodists, France, journalism, Karen Pinchin, Provence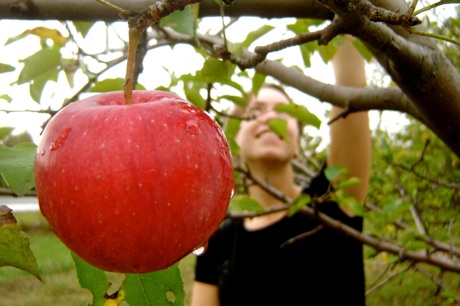 When asked to become part of the Foodists community, I was flattered and somewhat surprised. Sure, my life is food, I know how to cook and I have strong opinions about food. But for most of my journalistic career I've been behind the scenes, either editing other writers or working as a journalist, which mostly involves purging prose of opinion, and most certainly of adjectives.
Most food writing online is the antithesis of my background, full of hyperbole, hysteria, freebie-influenced swooning, and uninformed speculation on the restaurant industry. After going to culinary school (Northwest Culinary Academy, if you really want to know) and wading through the murky trenches of freelance journalism (you can find my credentials here, if you really need to know them), I've bitten the bullet and decided to let the adjectives fly.
After, all some of the best writing ever (EVER!) has been created by the likes of MFK Fisher, Claudia Roden, Patricia Wells, and Ruth Reichl, and I'm heading towards France in the year of Julia Child's 100 birthday. While I'd never dare to compare myself to those amazing women, at least I can aspire to follow in their footsteps.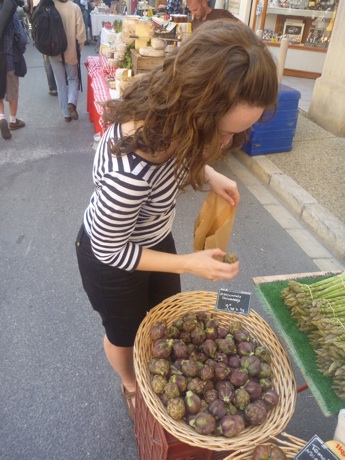 For the next two months I'm staging (apprenticing) at an inn in Provence, and will be posting recipes, mediations and the occasional rave for your reading pleasure. My interests are food science, culture, gastronomy, DIY projects (especially charcuterie), foraging and food security, but you'll hear more about that in the weeks to come.
For now, here's an excerpt from an interview I did  with Foodtree so we can get to know each other a little better:
Has your relationship with food evolved over time? How?
Everyone's has, I think. But I suppose working on an apple farm at such a young age had a profound impact on my preconceived notions of what our food system should look like. I took for granted that everyone could eat asparagus out of a garden, or knew how to forage for chanterelles. That kind of cheap self-sufficiency was a practical matter, not just a high-end luxury, so it's strange for me to think about modern-day gourmand-ism as something that's only accessible to the very rich. It's mostly about doing something over buying something, which is something I think we've lost touch with as a society.

What is your earliest memory about food?
My earliest food memory is probably from the apple farm. I was probably about thirteen or so, and had taken a break from patrolling the orchard (it was pick-your-own, and many careless people would climb trees and break branches or throw apples). I picked a Jonagold apple, which were quite new at the time, that was nearly as large as my head, and laid back in the thigh-high grass. I remember munching on this huge apple, looking up through the trees, watching the fluffy white clouds drift across a Dutch-blue sky as apple juice ran down my cheeks.

What's most important to you when it comes to buying food – local, organic, fair trade, GMO-free, etc?
Definitely local, and not factory-farmed. Local is important for changing how our food economy is structured, and supporting local entrepreneurs and farmers. However, good food doesn't have to be ""organic"" to be good. Our apple farm wasn't organic, but it was a manageable size, my grandfather practiced careful spraying and tree maintenance, and didn't depend on irrigation to keep the trees alive.

For things we can't get locally, I think fair-trade chocolate and coffee should be the default, but unfortunately capitalism doesn't work that way. This makes the fair-trade label necessary, which is too bad. Wouldn't it be nice if we could assume that trade was fair?

When it comes to GMOs, I think engineering seeds, animals or otherwise that can't reproduce or support themselves should be outlawed. It's a horrible, self-sabotaging practice that's going to bite society in the butt in the long run.

What is the one thing you'd like to see change about the food system?
I'd love to see more grassroots community action around skills-sharing, like foraging, preserving, curing, cooking and otherwise. Right now cities aren't doing a great job of supporting these movements through grants, etc., but I also don't believe they should be expected to do all the heavy lifting. Food economy is really important as well; I've had friends tell me that it's cheaper to eat out than to buy the base ingredients. This means they are either wasting too much, or don't know how to freeze/save/use leftover food, which is a tragedy, and super wasteful.