Tulum: Part 1
Posted by Jules Morgan on Sunday, August 26th, 2012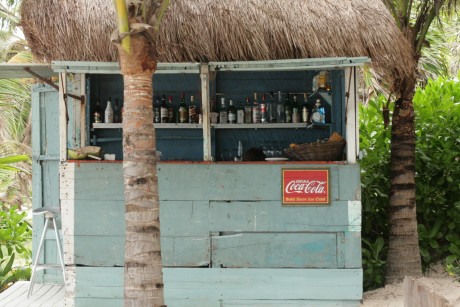 The last time I was in Mexico, I was a pale 17 year old, away from home and my family for the first time. I was sent to Monterrey as part of an exchange program, and promptly adapted to the strict diet of  homemade tortillas, made fresh daily by the host family's housekeeper, ice cold cerveza and buckets of margaritas prescribed by the host family's oldest brother.  It is that trip that instilled in me the taste of that region of Mexico, of fresh coriander and lime, that tortilla soup I tried just outside of Torreón that I have never been able to replicate, steak grilled with cactus pads from a roadside pit stop in the rainforest on the way to Mazatlan, quesadillas served dripping hot outside the Tec de Monterrey. 20 years on, I still remember those meals.
And so, in flipping through a copy of National Geographic Traveller in January of this year, I discovered a little place called Tulum. Located just south of Cancun, and far away from the maddening crowds of resort tourists, Tulum's hotel zone is comprised of one main strip of boutique hotels, beach side cabanas, yoga studios and exceptional restaurants – a perfect combination to discover a new part of the country that had so held my heart decades earlier.
I started the adventure over mango margaritas and fish tacos with friends, at La Zebra. Known for their fresh fruit margaritas and mojitos, made using local produce, they use an antique hand crank to press sugar cane juice. The result is exceptional, with just the right amount of sweetness, a perfect accompaniment to ceviche, tacos and the sound of the ocean. It was only polite to follow the mango margarita with a watermelon margarita and a Tortugioto – an incredible combination of tequila, fresh cucumber juice, lime juice and hand pressed sugar cane juice.
As I had already done some thorough research on where to eat, it was by chance that I met some ex-pats who had retired in Tulum, and who edited my fairly comprehensive list, adding and subtracting places to miss and adding that new place that had recently opened – which is how I found myself walking down the road in a tropical monsoon in search of Casa Onde, a pizza place, complete with wood burning oven on the main road. The owner, Sylvestre is a local with a passion for sourcing fresh ingredients, including the buffalo mozzarella which he gets from a farmer an hour away. The pizza was good, and although I've had better, there is something quite wonderful about eating firewood pizza in a jungle in the middle of a thunderstorm.
The following day, I rented a bike and cycled into town in search of paleta, those fresh fruit ices which seem to be a staple of Latin America. After several wrong turns, passing street taco stand after street taco stand, and promising myself the chance to stop and have one, I found what I was looking for. My directions to find this stand were simple: "Opposite the bus station, everyone will know where it is."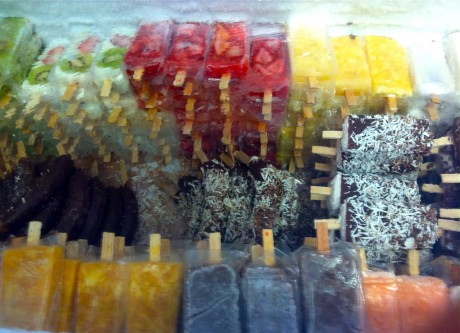 And there they were, row after row of the most delicious fruit. The hardest part was trying to decide on which flavour to try first, and I left with a pineapple paleta dripping down my hands in the hot Tulum sun.
It was a perfect moment. And so I got back on my bike, and cycled back to the beach. After all, there was lunch to be had.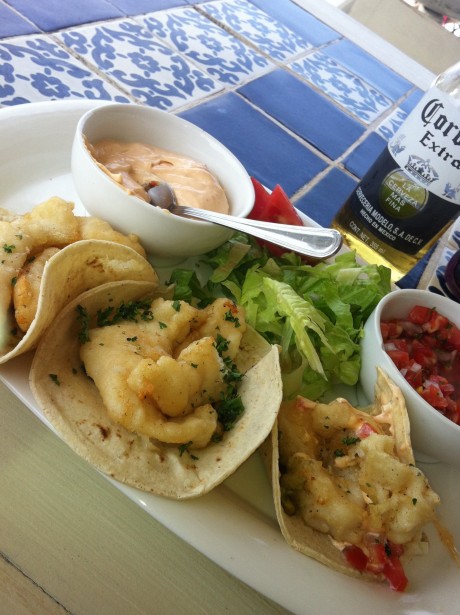 Tulum: Part 2 will be posted later this week
Traveling Foodists
By Foodists
Worshipping Foods from around the world
Tapas at Santa Caterina Market, Barcelona

By Foodists

Modern Tapas, yes! Shopping, no – Santa Caterina Market in Barcelona Posted by Melody Fury on Monday, March 29th, 2010 Tags for this Article: Barcelona, market …

Happy Hour in Portland

By Foodists

Today in the Foodists Guest Contributor column is a culinary adventure in Portland by new contibutor Laura Milligan. Look for more from her soon.

Deep Fried Everything at State Fair of Texas

By Foodists

Deep Fried Everything at State Fair of Texas [Video] Posted by Melody Fury on Tuesday, October 26th, 2010 Tags for this Article: beer, butter, Deep Fried, gross …

The Real Amalfi

By Foodists

The Real Amalfi Posted by Gen Handley on Thursday, May 19th, 2011 Tags for this Article: amalfi, guest, italy, Pasta, Travel. Today's guest post is by Gen Handley.

Eat San Francisco in Two Days

By Foodists

A London Lunch—at Dinner … 2011 Tags for this Article: Dinner by Heston Blumenthal, england, … Life—and lunch—is quite good at Dinner.

It Starts In the Vineyard

By Foodists

It Starts In the Vineyard Posted by Brenda Lowe on Monday, August 6th, 2012 Tags for this Article: California, Into the Vineyard, Napa, Sonoma, Travel, Viviani, Wine …

The Ultimate Montreal List for Discerning Foodists

By Foodists

The Ultimate Montreal List for Discerning Foodists … Whenever another Foodist goes to Montreal in the future, … Sat 11:00 AM – 6:00 PM