Life of a French Stagiere
Posted by Karen Pinchin on Wednesday, September 26th, 2012
Tags for this Article: Culinary School, France, Provence, St. Remy, stage
One dark morning last week, I made ham and eggs for one in a tiny skillet on an industrial range. Now, this has its pros and cons:
Pro: With the high heat that comes out of that Italian thoroughbred, all stainless steel and cast iron grates, breakfast can be ready in under 3 minutes flat. (For the uninitiated, it looks like this: Heat on, oil, ham on, ham off, eggs on, season, eggs off, tomatoes on, season, tomatoes off, skillet off, slightly stale baguette slices left in hot pan to soak up juices, serve.)
Con: After a late night of drinking pastis (a milky yellow anise liqueur the French adore) and Campari on a St. Remy patio, having the sudden realization that even when bleary-eyed, you are still a trained cook. If you burn your eggs while daydreaming about line-dancing in the street to a syrupy-sweet European pop trio — sparkle mini dresses,  coordinated dance moves, blonde lady playing the accordion and all — then all you have is burnt eggs and low self-esteem.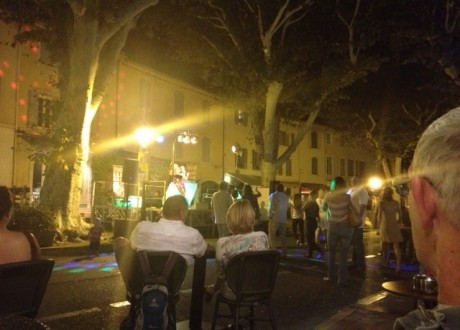 Luckily, breakfast turned out fine.
After a crazy few days at the Mas, a street party was just what the doctor ordered. While sipping my drink and listening to French pop, I realized that my last note didn't give you much of a sense of what I'm actually doing here, so this missive is dedicated to painting a clearer picture of what this experience has been like so far:
The Mas is an inn and cooking school, in a huge converted farmhouse decorated to the nines with antique furniture and valuable rugs. It sometimes feels like hospitality from another century. There are six bedrooms, a salon with a bar, an office and a dining room, which is connected to our teaching kitchen via our dish area. There is a large pool beside my little "maisonette" and a rope swing out front of the house, which is protected from burglars by a code-protected front gate.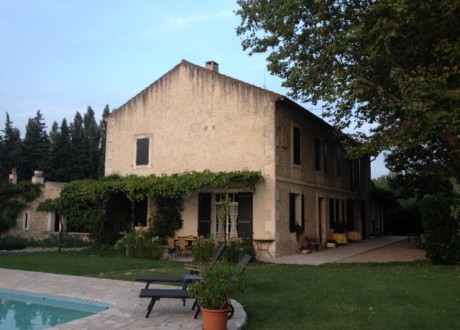 Guests at the inn are usually Europeans or North Americans (rooms at the inn start at 180 Euros a night, with a two-night minimum) and I have been put in charge of preparing and serving them an elaborate continental breakfast in the morning, with piles of fresh fruit from the garden, steaming pastries, and espresso coffees. (I just learned how to hold four plates or four wine glasses at once!! Former servers, please do not laugh.)
The cooking school offers tours of the St. Remy market and lunch and dinner classes, in which we (increasingly becoming I) do most of the prep work, and then a group of up to 20 hikers or cyclists will roll (literally or figuratively) into the front yard of the inn. They get recipe binders, information about the gardens and Provençal cuisine, and then drink rose immediately after they take all our careful mis en place and throw it together.
Now, the inn does offer private morning, afternoon and evening courses, and these classes are a pleasure to run, as they tend to be smaller and attract more serious cooks.
A day in the life…
Before dawn, even before the roosters have started, I'm making tea and scarfing down a breakfast of fresh figs and yogurt. By the time the rooster starts but the sun isn't quite up, last night's dishes are put away.
I run around preparing breakfast, which includes huge aforementioned freshly-cut fruit platter, and have everything on the table by 8am. Then comes distributing the vegetables, pastry components, starches and proteins that comprise each dish, which have been carefully measured and prepared the afternoon before. When the group arrives they are given their recipe folders, an apron, and a rundown of what the class will look like.
Once the class starts, it's controlled chaos, as people wave knives around, pretend that they were actually paying attention to the instructions, and ask me what part of the United States I'm from. That then starts a whole conversation about how lovely Vancouver is (yes, I know), why I'm leaving it (have you ever heard of New Brunswick?) and what the heck I'm doing in France (um… long story?). It's usually around this time I need to go help someone else, so I dash away, glad to not explain my lack of a concrete life plan to a total stranger.
Then the guests are shuttled outside for a snack and a glass of the Mas's famous bottomless rose, at which point I actually cook the food, then they come inside, take credit along with a plate, and then take a seat at a glorious long table that is set out front of the inn. While they are eating I am elbow deep in dishes, until the point where I am invited outside for dessert. This is where I wipe the sweat off my face, lose my dirty apron, and proceed to make small talk, the same conversation over and over, about how yes, I am a journalist, and yes, wouldn't it be swell if I considered writing for magazines about food, and no, they haven't heard of Maclean's but best of luck in all my endeavors.
After guests leave and the kitchen is clean, I usually dive into the pool until my body temperature is somewhat stable, take a short break (usually an hour or so) and then spend the rest of the afternoon and evening cooking and preparing for the next day's class. Sometimes my evening task involves picking thousands of fresh grapes off of vines to be put onto a drying rack for raisins, that kind of thing. I'm lucky if I'm in bed before 11pm.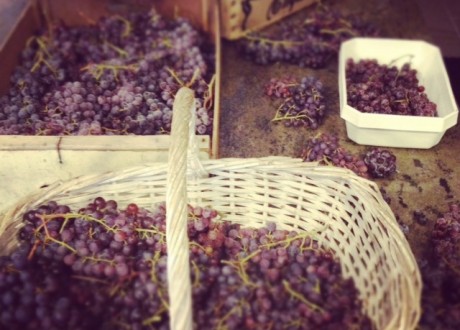 Some nights we're up until the wee hours, de-seeding zucchini and pre-cooking tartlets, only to be up at 5am the next day to do it all again. It can be a gruelling schedule. But slowly and surely, I'm starting to reclaim a feeling I became addicted to in culinary school: you are drowning in work, in your growing list of urgent to-dos, and slowly, almost imperceptibly, time starts to slow down. You start moving faster relative to it. Your moves are more controlled, you start overtaking, taking charge of the feeling of controlled panic that pounds in a kitchen.
We have another hard week of classes coming up, but I'm slowly but surely getting my bearings in the kitchen, where dishes are jam-packed upon dishes, and special platters and linens are squirreled away in every cranny.
She says that by the time I leave, I may know where everything goes.