Ten Commandments of Dining Around
Posted by Karen Pinchin on Monday, March 11th, 2013
Tags for this Article: #dinearoundFreddy, Dine Around, Dine-out, food cost, Fredericton, value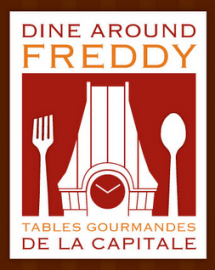 When it comes to Dine Arounds, Dine Outs or any "Eat At [INSERT CITY NAME HERE]!" complaints tend dominate the accolades. Why?
In my experience, diner criticism goes along these lines:
The service was terrible, the food wasn't done with care and I felt ripped off. I was promised a great meal at a great price and instead I got a crappy meal at an okay price. Why wouldn't I go some other time when the service and food will be better?
I've also heard complaints from chefs and servers, whose comments usually goes thusly:
Customers are greedy. We're giving them a great deal, working our butts off and they repay us by being rude, demanding and then never coming back to our restaurant. Plus, they tip badly, which makes everyone grumpy.
These past two weeks I've been previewing the Dine Around menus for most of Dine Around Freddy's participating restaurants (courtesy of the restaurants and Tourism Fredericton) with the delightful writer and Jill-of-all-trades Heather Allaby. As a result, I've had some revelations on what makes a great Dine Around experience. Thus:
The 10 Commandments of Dining Around
1) Restaurants: Thou shalt give excellent value.
Indeed, putting together a three-course menu for $29 is difficult from a food costing perspective. Chefs may be tempted to cut some corners by slashing protein portions, bulking up dishes with lots of cheap starches, not wasting time on thoughtful appetizers and desserts, or using obviously cheaper and easier pre-prepared ingredients or products. But they shouldn't. Customers aren't stupid. Dine Arounds are a chance to explore local restaurants and get a great deal. If you can really make people feel pampered and lucky, they're going to come back. If diners can find delight in the details, they will most definitely come back.
2) Customers: Thou shalt order wine or beer and tip generously.
Awesome! You're getting a great deal on food! But that doesn't mean you should be cheap, both when it comes to ordering alcohol or tipping fairly. You've decided to treat yourself to a nice meal out. Don't be a Scrooge and disappoint your date by drinking tap water all night. That's not fun, and it won't complement the food. Some of the best meals I've had these past two weeks have been really complemented by wine or beer.
Secondly, when you're tipping, DO NOT TIP ON THE AMOUNT OF THE BILL. That may seem strange, but do it this way: What was the value of the meal? How much would I normally pay for that meal? If they just gave me a $50-value meal and I ordered a bottle of wine for $30, then I'm going to tip my 18% on that amount. It's just the right thing to do.
3) Restaurants: Thou shalt give lots of options.
We get it. It's a fixed menu, and that's fine. But appetites, tastes, and food sensitivities can run the gamut, and if you're able to build a smart menu that accommodates those, then you are much more likely to appeal to everyone and get some repeat customers. For example, many of the Fredericton restaurants participating in Dine Around are offering vegetarian, gluten-free and picky-eater options. Plus, that will save you some time when serving people who tend to want more options, which speaks to my next Commandment.
4) Customers: Thou shalt not be a pain in the ass when it comes to ordering.
The inverse of Commandment #3 applies here. In order to make money during Dine Arounds, a restaurant needs to be busy. Very busy. And if they're busy, that means less time accommodating your incredibly specific requests, like to take ingredients out of a dish, or to substitute certain other ingredients. That takes time and energy from both the BOH (back of house ie. cooks ) and FOH (front of house ie. servers) and frankly, it's energy that they may not have much of. Try to be considerate during Dine Around, and hopefully if a chef has built a great menu then you can just relax, trust the kitchen, and enjoy a delicious and affordable meal.
5) Restaurants: Thou shalt not take Dine Around customers for granted.
This may be a special event, and restaurants may get busy, particularly with lots of new faces. But you do not work on an iPhone assembly line. You are a cook, and should want to put out food that is well-plated and delicious. In a few Dine Around Freddy experiences, even with advance notice and nearly empty restaurants, some of the plating (one in particular) was terrible: food was practically slopped on the plate. This does not make anyone feel special. This makes them feel cheated, and like you're taking them for granted. It's like that guy who shows up at your apartment late at night and then doesn't call the next day. It's just rude. The upside of this is that when you do put out a beautiful plate, diners will sit up and take notice.
6) Customers: Thou must have reasonable expectations.
Just because this is a special event and you may be dining out more than you normally would doesn't mean you should expect a $100 Michelin-starred meal for the low, low price of $29. Be reasonable. In any world, a three-course meal for the prices that some of these restaurants aim for is amazing. It's a feat of strength, and of culinary intelligence. So don't be a jerk about it. Maybe a restaurant won't include shaved truffles on top. Maybe they won't serve duck. Maybe they won't even (God forbid!) fold your napkin for you while you're in the bathroom. That said, smart restaurant chefs and managers will try to EXCEED your expectations.
7) Restaurants: Thou shalt try to showcase what you do best.
Dine Around is a great chance for restaurants to come up with some really interesting food that is on the menu for a short time. So chefs and cooks? Live a little! Use Dine Around as a showcase for the culinary predication of your establishment. Our meal at [catch] was a great example of this. Clearly they're taking the chance to use Dine Around as a culinary labaratory and testing ground for some new dishes that suit and complement their current menu. The food, from fresh sprouts on the gnocci appetizer to the totally charming chai bubble tea served with a biscotti for dessert, had a kind of cohesion and charm that made me feel like Chef Chris Taylor and his whole team really knew which direction their ship is headed. That's the kind of experience that makes one want to go back.
8) Customers: Thou shalt be adventurous.
In some cities, diners can be very conservative. In Fredericton, I've noticed this is particularly true — I've met people who think cheese is too exotic. This is a short-term menu, and you're getting the food for a great price. Sure, there is a time and a place for predictable comfort food, but I would argue that Dine Around or Dine Out events are a great time to try to spread your wings, little birdie, and try something new.
9) Restaurants: Thou shalt send them home with leftovers.
There have been times this week when I literally jumped with joy to find the leftovers from my Dine Around meals in my fridge. If you want diners to leave with happy memories, offer to send them home with some of the delicious food you cooked for them. This is another great reason to be generous with portion size.
10) Customers: Thou shalt tell thy friends!
This is where all your good deals and delicious meals translate into good karma. After all, these events are about promoting food traffic to local restaurants, and they're hoping that you do them good by recommending the meal to your friends, family and the entire Internets. And let's be real: running a restaurant, cooking at a restaurant and working at a restaurant is damn hard work. If you have a great meal, pay it forward and come back to pay full price some other day.
The Top 3!
(click on name for a link to their menus)
1) [catch]
This underdog, which is still getting the word out that it's no longer a mediocre hotel restaurant, pulled into an early lead and held it. Every single dish was thoughtful and well-executed, service was quick and friendly, and portions were generous. At any price, this was an exquisite night out.
2) Sam Snead's and The Blue Door (it's a tie!)
This may be cheating, but I just couldn't pick a favourite:
Sam Snead's was a surprising standout with a beautiful scallop appetizer (pictured above, highly recommended), large mains that we were excited to take home as leftovers, and not-fancy but a very delicious chocolate raspberry trifle that's actually just the world's best brownie with raspberry coulis and whipped cream in a water glass. Ask for your salmon rosé and skip the coconut cream pudding: the "trifle" is really that good.
Not to be outdone, The Blue Door had the standout dish of the night, a cilantro, sake and black bean braised baby back ribs with fried rice and house-made kimchi. It's gluten-free and totally addictive. In fact, it should probably be on the permanent menu. The curry-coconut mussel appetizer was a generous portion and the dessert, a dulce de leche cheesecake, is the only option but it's a good one.
This may be a surprising choice, but Uwe and Beate have put together a menu that showcases their restaurant's delicious and unpretentious comfort food, and do an excellent job of providing value and a warm dining experience. For a fun night out with schnitzel, spaetzle and a German beer in a stein, this is a night out. Plus, we were surprised that they get much of their meat and produce from Real Food Connections, not some scary-no-name meat provider, so kudos!