The Protester's Guide to Good Eats
Posted by Johnathon Vaughn on Monday, July 15th, 2013
Tags for this Article: DTES, Gastown, protestors, restaurants, vancouver

I would like to personally thank the protestors of Gastown and Downtown East Side restaurants. If it were not for the haute couture balaclava clad fashions and poetic typographic masterpieces on placards, it may be difficult for visitors and residents alike to spot new eats in our neighbourhood. In the hustle and bustle of downtown life, you just might miss new openings and exciting contributions to our dining options. You know, quality fare, friendly service, and honest business people turning their dreams into realities.
Unfortunately reality bites for most Vancouver small business owners in the highly competitive market of the food and beverage industry. Getting the word out on the street about any new cafe, restaurant, or bar venture can be difficult. Especially so when you are opening in areas that are still suffering stretch marks and growing pains like the Downtown East Side (DTES). Not too long ago, a restaurant was DOA if it was EOA (East of Abbot). We saw the memorable Fat Dragon sacrifice itself as a pioneer of heading EOA and bringing attention to the wonderful history and architecture of the communities of Railtown, Japantown, and Strathcona. Fat Dragon has opened and closed but has blazed a trail for young entrepreneurs on tight budgets to compete today.
I love Gastown and the DTES. Immensely. I love seeing so much character, diversity, charm, struggle, and success play out in its daily drama. Sunrise over the DTES is striking, trust me. And I love the young, fresh talent bringing so many good eats and treats to the neighbourhood!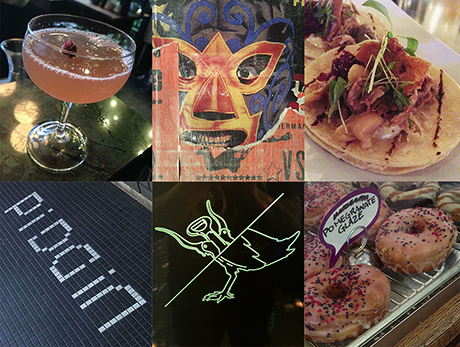 I took a tour of the neighbourhood I call home and enjoyed the lovely summer outfits of the protesters as they used their pickets and bandanas to shield themselves from the beautiful day and beaming smiles of local business owners. The morning began with breakfast at Save On Meats on Hastings Street where classic diner fare is served by warm, welcoming staff. My first meal here was over 35 years ago and it is a delight to see it continue buzzing with life and community outreach. For a morning coffee break, few places can provide as sweet a sugary pick me up than Cartem's Donuterie, SW corner of Carrall and Hastings. Fantastic snacks by fantastic people. An espresso from East Van Roasters sealed the donut deal. Back to work for a bit before a lunch consisting of white wine and Okanagan peach sangria, pulled turkey sandwich, and kale salad in the new outdoor seating at Rainier Provisions, corner of Cordova and Carrall. Go and enjoy this wonderful new patio built by architect Michael Green. An afternoon of work, a hot shave at Dominion Barbers on Abbott, then off to Pidgin for a delicious, and perfectly executed, early evening cocktail created by the always smiling barman, Robyn Gray. But for dinner, I wanted something latin and feisty, so I followed the protestors changing of the guard from Pidgin to Cuchillo on Powell Street and was treated to a vibrant crowd of fellow fans relishing in food and folly. A sensuous honey and whiskey cocktail by Vancouver magazine's Bartender of the Year, the man called 'H', was followed by a jicama salad and duck tacos. Perfect. Heading down Powell towards Gastown, I popped into the newly opened Bambudda, where I was greeted with open arms and friendly faces. The refreshing 'Fitzgerald' cocktail at the Bambudda bar that doubles as an inside patio was a delight. Finally, a nightcap at the excellent bar of L'Abattoir  featuring the stunning cocktails of Shaun Layton, which always impress the tongue and tickle the liver. A lovely location to finish an evening of open conversation with other local residents.
So remember… Protesters are awesome! You can now use them as a culinary guide to the city and explore the incredible gems that hard working restaurateurs are creating just for you.
All images in this post © Johnathon Vaughn Strebly 2013