The Curious Concept of Farmers Markets
Posted by Brett Macfarlane on Sunday, September 28th, 2014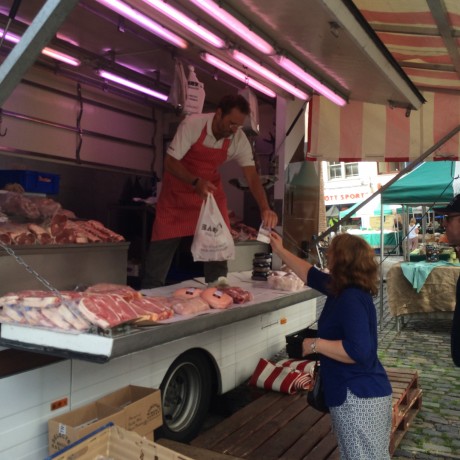 The wide halls and thoroughfares of London's King Cross Station echo softly with distant steps and scuffs early on a Saturday morning. Slumbering travellers shuffle along as if propelled by wheeled luggage. The air smells and tastes of black cab diesel exhaust with wafting whiffs of industrial strength coffee and bacon. Hermetically sealed sterile food "stuffs" are sold by the cluttered and confused newsagent W H Smith. The more focused, fresh and sanitized Prête, ITSU, Nero, Starbucks and Upper Crust offer sternly over chilled or over toasted edible concepts.
I pass through this buffet of bland, a typical scene in transport hubs around the wold. The homogeneity builds up anticipation and an appetite for my destination; Hertford, an English market town 45 minutes away by train. The reason for the journey being a monthly farmers market. A market rated one of Britain's best, rated by the sort of people who would rate such a thing, whatever that says about them and their ratings.
Aboard the aged and battered Greater Anglia 09:12 service the sun soaked farmers fields quickly pass by. As do waves of chemical toilet odours while dismal abandoned rubbish, remnants of a week servicing intrepid commuters, rolls and jutters about the 50 grit sandpaper flooring.
Settling into the train's enchanting swaying rhythm my mind wanders while my hand thumbs a sturdy cotton tote, courtesy of Monocle Magazine of course, the trusty bourgeois manifesto for considered modern urban living. At this moment, mid-pilgrimage, the recent emergence of the concept called 'farmers markets' seemed rather curious.
Or is the "concept" of a farmers market in fact even a concept?  Is it actually a thing? Is it free from the ever reaching arms of branding?  Is it a concept if it hasn't been "designed" with mood boards, style tiles and sloganeering. Could a city hall or government have the vision to pull off a concept so simple and purposeful?
Is the joy of a farmers market simply because it just is?  There is in fact no concept? They do it as they have done for centuries in Hertford? People grow something, then they come to town on the same day to the same place to sell it to mostly the same people.  Quite simple really.
At least that is the unglamorous understanding of what a farmers market is in non-North American cultures. Just a market really. Not a thing with social credibility, self-righteousness, nor guided tours or haughty verbal badges of honour around the craft beer and craft cocktail circuit.
Or is the concept of a farmers market a Canadian/American phenomenon in that such a thing can become a phenomenon?  That it is a concept? Or is it just a factor of our time where industrialized food production has sucked much of the humanity from one of the most vital aspects of life – eating.
This isn't to say concepts are somehow bad. Not at all, the developed world can express its generally high level of comparative wealth by not just having a meal to meet nutritional requirements but a concept to satisfy the mind and ego as well as stomach.
Make no mistake, there is a robust and rampant conceptualization of food in shops, restaurants and cafés throughout the developed world. From food trucks to "upscale casual" to Whole Foods to coconut water to Jamie Oliver branded arugula in Wal Mart. Food is so much more than just food. Something I'm keenly and self consciously aware of, and complicit in.
As a one time architect of the global Lipton Ice Tea brand for the good folks at Unilever, we didn't sell icy tea, no, people bought mental and physical refreshment.  As one of the fastest growing beverages it seems to be meeting a need.  People freely and willingly deciding to purchase and consume the concept.  Especially in countries where we focused on the mental and emotional attributes of the icy tea drinking experience over the more functional physical aspect, no matter how hot and sweaty the nation.
With this in mind aboard a train to Hertford, in a moment of extreme self awareness, my attraction to a rural farmers market became clear. There is no concept. It's not "Farm to Fork", a "100 Mile Diet" or "Locavor" nor some other cringe worthy portmanteau fabricated by self-important self-labelled self-loving foodies. Nor is it about seasonality, tasting menus, deconstruction, reconstruction, rethinking, reinventing, reimagining, revolutionizing or any other way to stretch food to a different meaning.
Certainly such things can be quite fun and even tasty. But right now the concept I'm hungry for is concept-less food. Things that cannot be produced in the same way with the same taste anywhere else. They are, quit simply, what they are. A bit different than they will be tomorrow and not exactly the same as yesterday.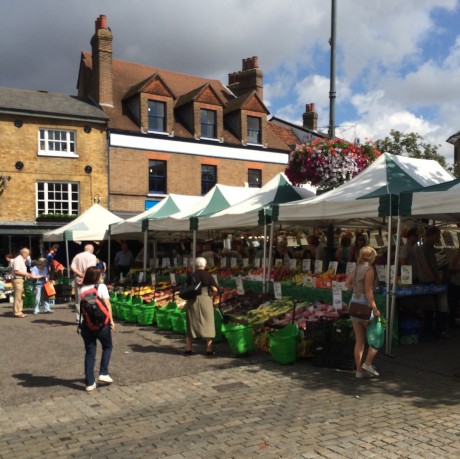 The Hertford market, simple tables set up around narrow cobbled streets, is as it has long been. Some people who make stuff come and sell it. There is not a mission statement, no big vision, nor a brand promise in sight. Just a schedule for the rest of the year turned out of a vintage dot matrix printer in the village hall.
The street smells of rustic beef, of flavoursome heritage breed pork and of fish still swimming yesterday. The bread is reassuringly non-uniformed in shape and colour. Honey and jam in clear label-less bottles with an economical hand written description – strawberry jam – that's all it needs to say. Free from chatty brand chat. The produce is fresh, delicious and adorable in the funny imperfect shapes that remind us they are born from DNA not laboratories in Hoboken New Jersey, the Roche labs of Geneva or the grand greenhouses of Spain, Kenya and Peru.
There is no salesmanship, people are too busy helping customers for that. Each stall is a conversation with the person who bred, grew, butchered, foraged or harvested the products. People who are personally invested in, part of and proud of the goods for sale.
The lack of concept, that day was just the concept I wanted.