Bishops Asparagus Soup
Posted by Ben Garfinkel on Monday, September 26th, 2005
Tags for this Article: asparagus, recipe, soup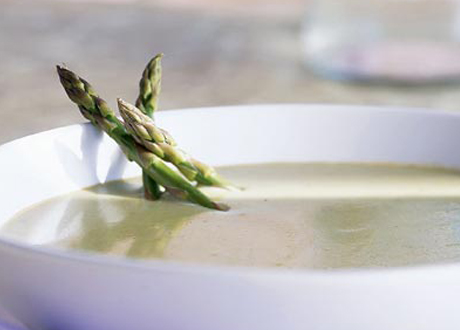 Ingredients:
1 lb asparagus
2 tbsp butter
3 stalks celery
1 medium potato
1 sweet onion
4 cups chicken stock
1 cup whipping cream
salt and pepper to taste
Remove the bottom of the asparagus stalks (the tough part). Chop.
Chop the celery
Chop the potato into little cubes
Chop the onion
Melt the butter and put the above 4 ingredients in. Saute until soft (5 minutes).
Add the chicken stock and bring to a boil.
Simmer for 30-40 minutes uncovered.
Let cool for 15 minutes.
Blend the soup until smooooth.
Add the cream and stir in.
Serve.
We added a slice of proscuitto too. Oh – that's meat. And, we added white truffle oil in the individual bowls for looks and an amazing flavour.
Easy!!