Cooking Class with Chef Romy
Posted by Andrea Busse on Tuesday, July 14th, 2009
Tags for this Article: Chef Romy, chocolate, cooking school, Cookshop, paella, pears, poached, recipes, Risotto, Romy-Prasad, sauce, soup, steak, tomato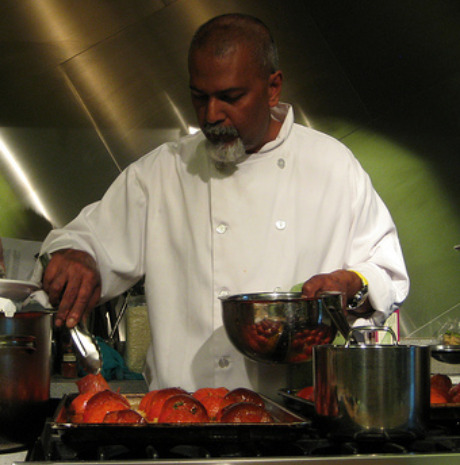 "If anyone serves you risotto in a ring mold, get up and leave."
That was just one of the little tidbits of advice we were treated to when Andrea M and I ventured into Cookshop for a Spanish Cooking class with Chef Romy Prasad (from So.Cial at Le Magasin in Gastown).
The menu was ambitious for a 3 hour class:
Oven Roasted Tomato Soup with chive Creme Fraiche
Spicy Grilled Skirt Steak with Zucchini
Asparagus and Shrimp Risotto
Classic Spanish Paella
Poached Pears in Red Wine with Chocolate Sauce
(recipes included with Chef Romy's permission)
We did go a little overtime, but we certainly had a good meal. And it was an entertaining evening. Andrea M established herself as the heckler early in the evening and we were seated in the front row, so it was a bit of a giggle-fest. Nothing Chef Romy couldn't handle though. The staff at the Cookshop was also amazing – I wish I had 3 people whisking away dirty dishes and appearing with fresh clean ones in my kitchen!
The class was fun and we had some tasty food too. I'm not sure I learned a ton of new cooking skills from the class, but I did pick up a few things, and it is always fun to watch someone else being creative in the kitchen. Watching cooking live will always be better than The Food Network – hands down. And watching Chef Romy render Andrea M speechless at one point was worth the cost of the class.
For a night out, this was a lot of fun and I'd do it again. And, if you want, you should book something soon as many of the summer classes are 2 for 1!
Oven Roasted Tomato Soup with Creme Fraiche
6 lbs tomatoes
3 sprigs thyme, chopped
2 cups tomato juice (or more depending on the ripeness of the tomatoes)
1/2 cup olive oil
3 cloves garlic, crushed
salt and pepper
Cut the tomatoes in half and toss with 3 tbsp olive oil, garlic and thyme. Place on a hot grill and cook for 10 minutes (or 30-40 min at 400 in the oven). Remove from grill and pass through a food mill. Place the tomatoes in a large pot with the rest of the olive oil. Add the tomato juice if there is not enough liquid. Cook until consistency of heavy cream. Season with salt and pepper. Serve hot or cold, drizzled with olive oil on top.
You can also garnish with truffle oil, shrimp, gin, chive oil, chili oil…
Grilled Skirt Steak and Seasonal Vegetables
3 lb skirt steak cleaned
1 bunch asparagus, blanched
3 tbsp chopped parsely
1 tbsp sherry vinegar
2 lg zuchinni, sliced
1 clove garlic
3 tbsp olive oil
Preheat oven grill for 10 minutes at medium high heat. Grill vegetables and toss with parsley, olive oil, and vinegar. Set aside.
Marinade:
2 oranges, zested and juiced
1tsp chilies
1 tbsp paprika
2 lemons zested and juiced
1 cup olive oil
Mix all ingredients together and marinate the steak for 12 hours. Brush off excess marinade and grill steak for 3 minutes per side over medium grill. Season with salt and pepper. Slice across the grain and serve on top of vegetables.
Asparagus and Shrimp Risotto
Fine sea salt
1/2 lb asparagus, washed and peeled
3 cups stock
1/2 cup chopped onion
1 tbsp chopped Italian parsley
1 tbsp vegetable oil
10-12 large shrimp
2 tbsp butter
1 1/2 cup risotto
1/2 cup freshly grated parmigiano
Cook asparagus in 1 tbsp water till spears bend easily when lifted with tongs. Cut off the tops of the asparagus and reserve for later. Chop spears into 1/4" pieces. Chop shrimp roughly into 1/2" pieces.
Simmer stock over medium heat.
Choose a heavy bottom 4-6 quart saucepan. Add 2 tbsp butter, vegetable oil, chopped onion and cook over medium heat. Cook until light blond colour. Add the asparagus and shrimp, season with a little salt and cook until shrimp are cooked, about 2 minutes. Remove from pot.
Add the rice to the saucepan. Stir it and turn it over several times to coat it well. Add a ladleful of stock. Using a wooden spoon, stir to keep the rice moving away from the bottom of the pot. When the liquid is evaporated, add another ladle. Cook this way until the grains of rice lose their chalky centres and are firm, yet tender – about 25 minutes.
When the risotto is done, turn off the heat; add 2 tbsp butter, chopped parsley and parmesan. Taste and season with salt and pepper. Pour the risotto onto a serving platter. Arrange the asparagus and shrimp on top. Serve immediately.
Paella
2 cups Arborio rice
2 tbsp olive oil
2 cloves garlic, finely chopped
1/2 lb tomato concasse
salt and pepper
1 bay leaf
1/2 lb squid, cleaned and cut into 1/4" circles
1/2 cup shelled peas
1 lemon cut into wedges
2 lb free range chicken
1/2 cup chopped onion
1 sweet red pepper, julienned
2 pinches saffron, soaked in chicken stock
5 cups chicken stock
1 lb mussles, scrubbed
12 medium shrimp, deviened
12 black olives, pitted
Cut the chicken into 8 pieces. Keep white and dark meat separate. Cut each of the pieces into 2 inch pieces, leaving the meat on the bone.
Heat the olive oil in the paella pan or cast iron pan, over medium high heat. Add the dark pieces of chicken and season. Saute until lightly browned. Remove the meat and reserve in a bowl. Add the breast meat and saute until lightly browned. When done, remove to a bowl. Add the onion, garlic, and red peppers to the pan. Cook until the onions are softened and slightly browned. Add the tomatoes, saffron, bay leaf and chicken stock. Bring to a boil and season. Return the chicken leg meat to the pan and add the rice. Stir to combine the ingredients. Cover and reduce the heat to low. Cook, covered, for approximately 15 minutes, shaking the pan occasionally. The rice should be two thirds cooked at this point and the mixture should be a sloppy in consistency. Add the breast meat, shake the pan and cook for 5 more minutes. Check he seasoning. The finished paella has the consistency and texture of risotto. At this point the paella should be within 5 minutes of being finished. Add more chicken stock, if necessary, to reach the desired consistency.
Add the shrimp, cover and allow to cook for 3 minutes. Add the mussels and the squid, cover, and allow the paella to finish cooking. The paella should be finished by the time the mussels have opened. If the seafood were added any earlier, it would be overcooked before the rice was done. Just prior to serving the rice, stir in the peas and black olives.

Braised Pears with Red Wine
2 litres red wine
1 vanilla bean
2 oranges, peeled and sliced
1 cup glucose (1 1/2 c sugar to 1 c water)
2 lemons peeled and sliced
10 peeled and cored pears
Combine all of the ingredients, bring to a simmer and cook until pears are soft. Let sit in the poaching liquid until ready to serve. Remove pears and drain well.
Chocolate Sauce
Use 65% dark chocolate for best results.
Combine equal parts of chocolate and heavy cream. Stir in saucepan and drizzle over pears when ready to serve.