Dinner at the A.O.C.
Posted by Kevin Broome on Wednesday, April 19th, 2006
Tags for this Article: California, charcuterie, Hollywood, Los Angeles, restaurant, Wine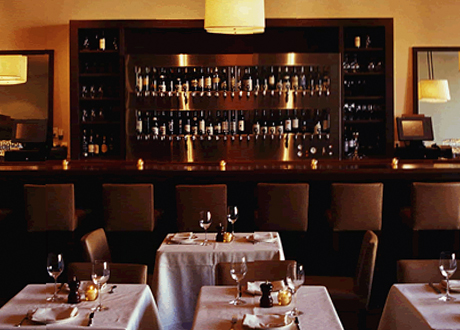 It was only after confirming our Friday night seating at A.O.C. that my wife Jane and I started reading online reports that informed us that we weren't actually supposed to be able to get a reservation at this West Hollywood hot spot without calling weeks in advance. We assumed that either we had lucked out on a last minute cancellation or all of the beautiful people had since moved on to hipper fares. Whatever the case, we were soon to learn first hand what the buzz surrounding this wine bar was all about.

By now, most diners are familiar with the concept of small plates dining. A.O.C. holds the claim by most critics as being the originator of this trend. They are also the only restaurant in Los Angeles with a charcuterie; the large glass doors behind the bar displaying a savoury collection of pates, terrines. farmhouse cheeses and hanging cured meats. The setting is upscale but informal, with leather back chairs and beige walls while the social nature of the smaller shared plates encourages a lively and engaged chatter. The restaurant's name stands for Appellation D'Origine Controllee, a certificate of authenticity in France applying to wines, eau de vie (brandy), dairy and farmhouse products. Rest assured, this same preoccupation with quality ingredients is applied to every detail of the AOC experience.
The meal began with the waiter bringing a plate of chipotle puree and briny black olives and a basket of toasted bread to keep our palettes occupied while we scoured our dinner options. A wide variety of cheeses are the first item listed on the menu but we opted to save them for the end (there is a blog debate just waiting to explode on this one: do you eat your cheese before or after the meal?). As expected of a wine bar, AOC offers 50 different wines by the glass. I started with the Arcadian Pinot Noir from Monterey. Our dinner played out as follows:
Veal and Black Trumpet Mushroom Terrine
Squash flowers in a beer batter stuffed with a herbed ricotta
Pancetta wrapped Trout with sorrel and grapes
Quail with foie gras and porcini sauce
A three cheese platter including a beautiful bra duro from Italy
View the full AOC menu here
Brilliance. All of it. In the end, we ran out of room for dessert, settling instead for espressos. This serves as the only regrettable moment in the entire evening. We should have bloody found some room.
When all is said and done, I'm really not sure how we managed to score a table at A.O.C. that Friday night. Sure the Celeb Spotting odds have diminished over the years but all the better to focus on the real task at hand: enjoying quality food and wine over great conversation. Highly recommended.
A.O.C. is located in 8022 W 3rd Street Los Angeles, CA; (323) 653-6359, www.aocwinebar.com