Taste of Yaletown – Brix
Posted by Erin Kampf on Wednesday, November 15th, 2006
Tags for this Article: Brix, restaurant, review, vancouver, Wine, wine bar, Yaletown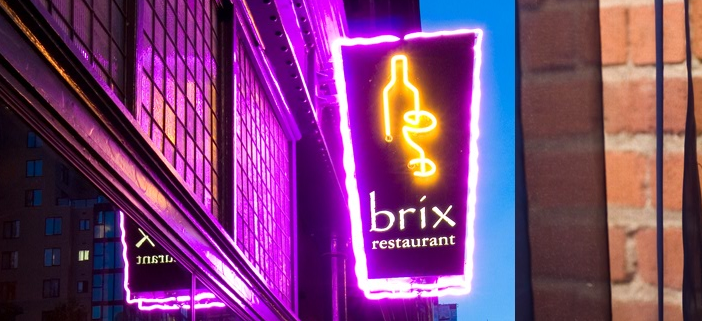 A few weeks ago, I caught the tailend of the Taste of Yaletown, where a variety of Yaletown restaurants offer prix fixe menus at $25, $35 and $45. Brix had a $35 menu that sounded delicious, and I'd never been there before, so it was time to give it a try.

After the impressive courtyard entry, the restaurant's brick walls were warm and inviting on a chilly night. Our waiter, Michel, helped us pick a wonderful bottle of wine, a 2003 Domaine Perrin Vacqueyras AOC Les Christins, from the Rhone Valley. This robust wine sung with fruity notes of blackberry and cherry. We enjoyed it so much that we had to track it down at the liquor store the next day. Then I chose the following menu:
Appetizer: Oven dried tomato and boccocini salad with a duo of tapenades, crisp capers and butter leaf lettuce in a barrel olive oil and balsamic reduction
Entrée: Porcini mushroom crusted local venison scallopini with pecorino and fontina tagliatelli, tomato jam timbale, roast garlic demi glace and a cherry tomato spinach sauté
Dessert: Flourless chocolate espresso cake in a white chocolate orange soup
The salad was fresh and crisp, with the tomatoes and capers adding bursts of flavour, between bites of black olive and sun dried tomato tapenade.
The entrée was a riot of flavours. The tomato jam on the fresh tagliatelli was simply incredible. Who knew you could do that with tomatoes? While I enjoyed the venison, I wondered if it was a bit overcooked. I rarely order venison, so I'm not certain as to how it should be served, but I found it a bit tough to cut through, which didn't seem quite right. Nonetheless, it was tasty. I just wonder if it could have been better.
My only hesitation when placing my order was the "white chocolate orange soup" that accompanied the dessert, so I asked for it on the side. The cake was rich and dense, and while I didn't taste espresso, it was so smooth and chocolatey I didn't mind one little bit. I tried the "soup" – and it was actually quite good, although the cake held its own quite nicely without it. They should just call it a sauce as "soup" sounds a bit repulsive. Along with a glass of port, this was a perfect end to the meal.
All in all, we had a wonderful night. Tasty food, amazing wine, fantastic service. I'll definitely be back to try some other items on the menu.
Brix is located 1138 Homer Street. Vancouver, BC in Yaletown; (604) 915-9463; www.brixvancouver.com