Yum…21 year old fungus wine
Posted by Mark Busse on Tuesday, March 20th, 2007
Tags for this Article: story, Wine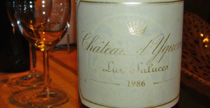 It's so good to have foodie friends who call you up and say "Neena feels like making butter chicken recipe – wanna come eat?" And then to have another friend [we love JD] offer his beautiful apartment in the sky overlooking the sunset and city lights for dinner. Does it get any better? Well, yes actually, it does.
After some terrific wine and food, JD decided it was time to finally open his prized bottle of 1986 Chateau d'Yquem Sauternes for some desert sipping. Upon inspection, it appeared the bottle's cork had shrunk and leaked, likely turning the lovely sweet elixir inside to turn to vinegar.
After a comedic battle to remove the ill-fated cork and some tentative sniffing and sipping, the terrific discovery that the wine had survived! And what a treat indeed. Perhaps the use of grapes affected by the fungus Botrytis cinerea, affectionately called "noble rot" helped make the wine more inclined to survive this ordeal? Yum…fungus wine.