A litte taste of France
Posted by Erin Kampf on Tuesday, March 27th, 2007
Tags for this Article: cafe, food, french-food, lunch, review, vancouver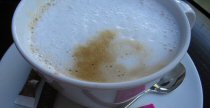 I discovered Coco et Olive last spring. It's a small French-style cafe, with minimalist but country-esque decor. I remember sharing a panini and a plate of goodies which included baguette, hummous, tapenade, cheese and olives. And, of course, we each had to indulge in a giant cafe au lait.
I don't visit that neighbourhood very often, so unfortunately had not been back since. But last week, on a wet and dreary day (who knows which one of the many…) I was driving by and decided to stop for lunch. I ordered the lemon-artichoke-chicken panini and a hot cocoa to warm up. Still love it.
A husband and wife team run the place and are very friendly. He is French and she has lived in France, so they know what they are doing. I highly recommend stopping here for lunch or a snack (yummy looking pastries as well), or even to pick up some fine foods, such as jars of olives, jams, olive oil, etc.
Coco et Olive is located 3476 W Broadway in Vancouver, BC; (604) 736-7080, www.cocoetolive.com