A Mouthful of Happiness
Posted by Stephanie Co & Todd Smith on Friday, April 6th, 2007
Tags for this Article: cassava, filipino, kalamansi, pomelo, Seafood, Travel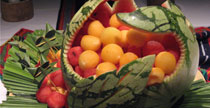 Over the past two weeks I've been enjoying the life of a King, consuming every known Filipino dish in large quantity and still leaving food on my plate. What is common here is amazing to me, I could well imagine North American food strikes the same chord with the lovely people here in the Philippines, but I can honestly say that the many cuisines I have loved up until this point have been completely painted over by the magical dishes I have the pleasure of devouring each day. What is most striking is the access to local fruit and vegetables, I grew up with steak, potatoes, and an endless supply of apples and oranges; here I get kalamansi, cassava, and pomelo, coming at me about as fresh as it gets (PS, I'm enjoying a huge bowl of Banana Con Yelo while writing this, think shaved ice over a warm mix of sliced Banana and sugary syrup). Aside from the daily meals I've enjoyed thus far, this past week Steph and I had the opportunity to take a few days and visit the amazing Bacon Beach resort in the Bicol region, where Whale Sharks and mind-blowing food swam into our lives and the fork and spoon became the national symbol of my heart.

Bright and early Sunday morning we stepped onto the tarmac, boarding a short flight to Legaspi, Philippines; we then transferred to a minivan and began winding our way through small villages, farms, and forests full of palms until we came to rest on the furthest eastern coast of the island. After winding down and settling into our rooms, our group retired to the dining room where steaming plates of garlic rice, prawns, Bicol Express(hot pork liempo cooked in coconut milk with green chilies), and Ginataang Langka (young jackfruit stewed in coconut milk with shrimp paste, "bagoong") rest, only for a few seconds though.
The next morning only moments after waking, in front of me sat a huge plate of Tapsilog; let me stop here for a second, in my life I've never enjoyed rice all that much for breakfast, my mom had one amazing dish of liver and rice, but other than that, nothing. Tapsilog has easily become my favorite breakfast, but Ate Ona (at Steph's Aunts house) makes it way better. Soon after we were able to enjoy the most delicious sweets, about five different blends including squares, cakes, and rolls, sadly I was so busy eating I never got their names (I'll update later if I find them out), but they were heavenly.
After breakfast we traveled to Donsol, where we jumped into the ocean for some Eco-tourism, swimming with the endangered "Butanding" (Whale Sharks) Native to the Bicol Region, might I add it's quite cool to swim beside an eight metre long fish. Later that evening before departing from Donsol, we enjoyed a riding down a river in a tiny boat under the light of fireflies (we also enjoyed colliding with another equally small boat mid river, but pulled back to shore dry).
After an amazing day of adventure we once again boarded our tiny Hyundai van for the hour-long trip to Bacon Beach, stopping only once to hear Steph's cousin Candice shout, "Balut, Balut" to a hawker. As we pulled into the lot behind our resort, just a little before ten, we were engulfed in the most amazing scents before sitting down for a huge feast of lechon (roast pig), crispy balat (roast pig's skin), freshly caught Tuna, Squid, and tons of other mouthwatering dishes; including Pako (Fern salad, a vinegar mix served with the tips of fern fronds), Lako (Seaweed Salad), and Salbey Zu Backen (Batter Fried Sage Leaves), and finally topping it all off with a fresh mango and kalamansi soufflés, and assorted local fresh fruits. Simply Divine, a shame we had to come back.