A Perfect Present: Paella
Posted by Nancy Wu on Monday, June 1st, 2009
Tags for this Article: chicken, chorizo, Fisherman's Wharf, mussels, Oyama Sausage Company, paella, Pepitas, rice, Seafood, shrimp, spain, Spices, spicy, squid, Vegetables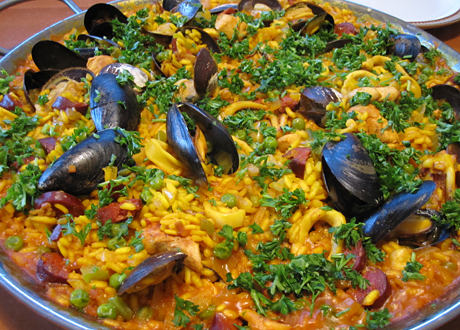 My friend Jamie Kelley has repeatedly said that he'd love to come over and make me his ultimate version of paella, a delicious rice dish originating from Spain. Served in a paellera (a round shallow pan made of polished steel with two handles), I was always intimidated to make it myself as it seemed like a huge production left to the experts (Spanish mothers).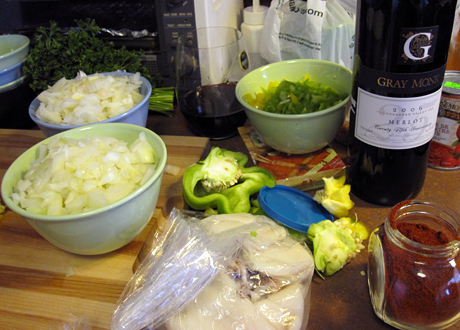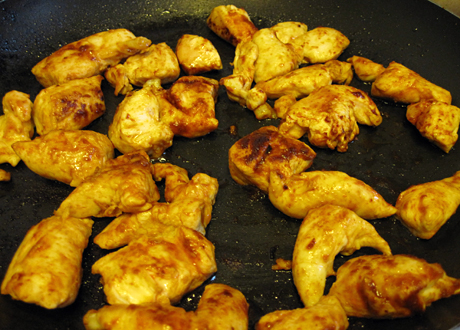 My first sampling was as a university student at Pepitas in Vancouver (good but gave me nasty heartburn). My last was in San Francisco near Fisherman's Wharf. It was always wonderful to anticipate—a delicious mix of seafood (mussels, shrimp, squid), vegetables, chicken, chorizo, white rice and many spices—and yet I know I never quite experienced the ultimate.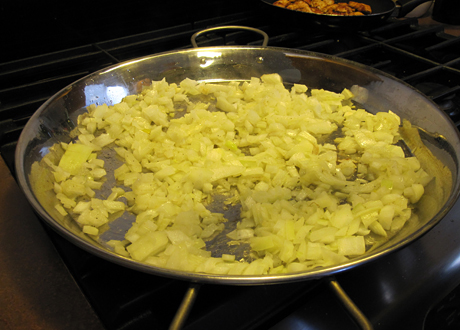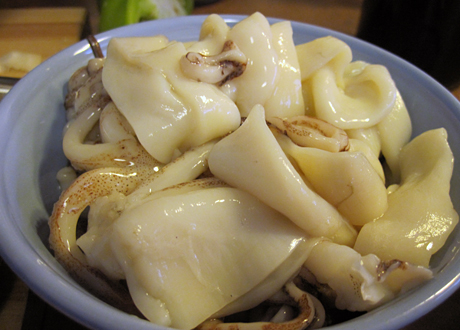 It's something hard to eat on my own (it's huge!) and impossible to share w/others allergic to shellfish or aversive to spicy food. My Spanish friend Luisa, says it's something that's best prepared with fresh quality ingredients, a robust oven, someone's home (not a restaurant) and the company of good friends and family.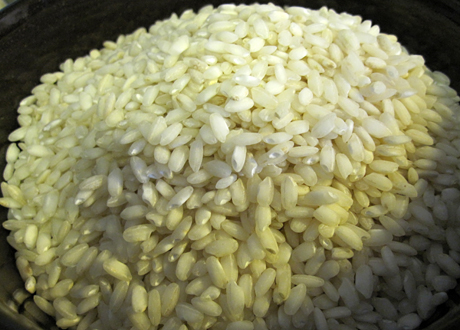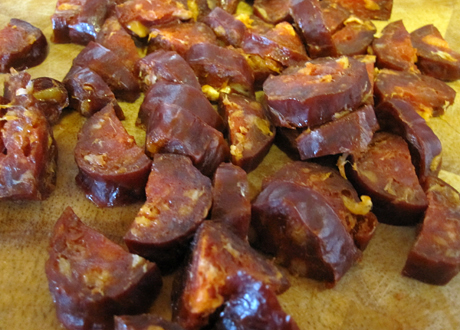 All of those key attributes came together recently and Jamie did not disappoint (including his homemade chicken stock and a visit to Oyama Sausage Company on Granville Island). He truly made me the BEST paella I've ever had and I'd like to share both the recipe and some preparation photos. The spices were so flavorful (no heartburn!) and the arborio rice was cooked to perfection (not mushy). Thank you Jamie!