Fall for Food in Japan
Posted by Nancy Wu on Saturday, November 15th, 2008
Tags for this Article: asian, food, Japan, onigiri, rice, sushi, Tokyo, Travel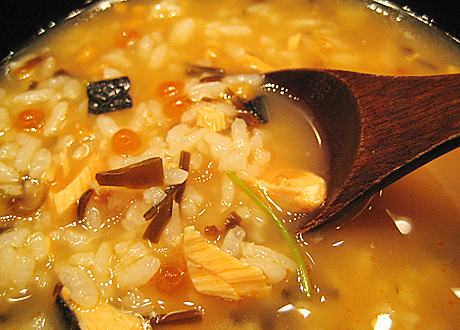 M
y family and I enjoyed 2 weeks in Tokyo & Nagano this October which turned out to be a repeat of a humid summer I once had as a kid. As usual, we had amazing food experiences. Some were comfortable flavors from past excursions and many were new delicacies we still think about and wish we could taste just one more time…oh make that five (it's my lucky number).
The Trends
– European Bakeries were an emerging force 4 years ago on our last trip. Quite the Godsend after the 5th morning of onigiri (rice balls) for breakfast. I like them, but after awhile you need something other than rice and seasoned fish.
– Italian pasta was something I saw a lot of this time. And done well instead of a sugary ketchup-like substitute. They learned how to take an fresh basic tomato sauce, add fresh basil and make something great of it. Less is more. Although, it's frequently spruced up with seafood like shrimp, clams or cod.
– The best place to get fresh soba is still out in the countryside where women make them by hand with great expertise, technique and patience.
– Drinks from vending machines used to be bonus-sized. Now they're shrinking. 3 gulps and you're done.
More photos & captions continue on Flickr:
http://www.flickr.com/photos/josephwuorigami/collections/72157609132566328/
——————
Nancy Wu, MGDC is a Vancouver freelance senior designer & art director.  www.nancywudesign.com This is her 4th trip to Japan in the last 12 years. For her "Design in Japan" article, visit www.gdc.net/designers/inspiration