Now I Know What Gimmick Tastes Like
Posted by Andrea Busse on Wednesday, May 2nd, 2007
Tags for this Article: Chicago, molecular-gastronomy, Moto, restaurant, review, Travel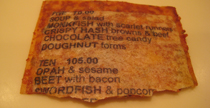 My brother Keith told us about this cool restaurant in Chicago, so when we planned a trip to the windy city, I was excited to make a reservation at Moto. Keith had a great experience here and said that the chef "had fun with food". I checked out the website and thought the menu looked interesting, so we booked a table without even reading any reviews. It would have been good to read some reviews first.
Moto is a Japanese character symbolizing "inspiration, desire and innovation" which serves as the mantra for young Chef Homaru Cantu, who has attempted to create a playful, theatrical dining experience using expressive combinations and inventive presentation. However, we found it somewhat like a laughable puppet show put on by children. Now puppet shows can be great, but as premium fine dining goes, this meal was not fun, not tasty, and not at all what we were hoping for. One thing it did have though, was a lot of rules.
Now in its third year of business, Moto is nestled in the super cool Fulton Market meatpacking district west of downtown–an area that has been repurposed as a hip neighbourhood of retail, bars and restaurants. The restaurant is modern and starkly designed, apparently so visitors, according to their website, focus on the food. Marketing itself as "avante-garde with Asian influences", we could not find anything Asian beyond the Japanese character on the tablecloth. Which brings me to our meal…
The menu came and it was printed on thin rice paper and attached to a spiced Parmesan wafer. It even said "Happy Birthday Mark" on the bottom. Cool. Then, the rules started. We wanted to take it home to show Helen and Casey, but as the waitress crisply told us, we were not allowed, as it is patent pending. If we wanted to talk to the chef about this rule, we could. All right. So, we won't take it home. It was funny to eat the menu. Pretty salty, but kind of neat.
Second rule of the night: we were not allowed to order different tasting menus. We could only both order the 5 course ($70 each), 10 course ($105), or GTM (grand tour moto, $165 and a four hour investment). We opted for the 5 course as it should give us a good idea of what the food is like. Good thing we didn't spend more. I would have had to raise a stink.
We asked for the wine flight that went along with the 5-course menu. It was so underwhelming. I cringe to think what Colin would have said about it.
The first course was an interesting take on soup and salad. We got a long bowl with two kinds of soup. One soup was warm and red, the other cold and green. The red soup was pizza and it tasted like someone opened a can of Chef Boyardee pizza sauce and heated it up. The green soup was Caesar salad and it was more interesting. It even had little croutons and a drizzle of dressing on it. Even though it was in soup form, it tasted just like salad. The pairing, the waiter informed us, was a Belgium-type beer from Kuwa-bec, Canada (Unibroue, Edition 2005, Chambly 2005). The beer was tasty. Yay Canada!
The second course was roasted monkfish with scarlet runner beans. The fish was prepared well, though not very flavourful. The beans were terrible. But, the interesting part of the dish was the white truffle powder that was sprinkled on the dish. We've never seen that before. The wine was cabernet franc from Virginia (Barboursville Vineyards, Reserve, Cabernet Franc, Virginia 2004). There was nothing to it–no nose, no body and rather weak.
And now to the gong show dish. Our third course was steak and eggs with hash browns. I like all of that. But picture this – it was plated on a massive bent stainless steel plate shaped liked the game Battleship. Big enough that it was awkward and nearly impossible to get my glass of wine that was hiding behind it. In the top corners of the plate were holes where their "patent-pending" aromatic fork and spoon were inserted. The spoon was unnecessary and must've been there for balance. I mean, when is the last time you used a spoon to eat steak? The handle of the fork and spoon looked like corkscrews and inside the spirals were fresh herbs. It did smell good, but, for the rest of the meal, my hands smelled like garden. I couldn't even turn my fork over because it was so heavy and it kept flipping back. Silliness. The meat was cold, the hash browns were mushy and overly salty, and the square egg was rubbery. The wine with the steak was a sparkling white "dominated by pinot noir grapes" (Schramsberg, Blanc De Noirs, California, Brut 2003), that smelled like crushed aspirin, but tasted a little better thankfully.
The fourth course was chocolate tree candy. This was a melon-ball scoop of cherry cola ice cream, port re-hydrated cherries, and a backwards-chocolate covered cherry. This course was okay, except the chocolate covered cherry was so sweet my eyes went crossed. The wine was a Madeira (The Rare Wine Co., New York Malmsley, Madiera). It was at this point that I pointed out to Mark that the waiter pouring the wine NEVER showed me the label. He'd pour us the wine, and then he'd turn his back on me, show the wine to Mark and describe it to him. Huh. Even with me craning my neck to see the label, he continued this behaviour.
Last course. By this time, we were giggling and feeling silly for being had. The final course, the course to leave us with a lasting impression of Moto was …doughnut forms. Three different bits that tasted like doughnuts. One was a warm doughnut soup, sort of like warm crème anglais and crème caramel together. Not terrible, though Mark didn't like it. The second one was a doughnut, chocolate, coffee flavoured pyramid. It felt like wax mixed with gelatin in your mouth. The third one looked like a white cupcake with sprinkles. Ohhh! I like sprinkles. Except when I tasted it, it was like a grade 7 home economics cooking class gone wrong. It tasted like oily salted doughnut ice cream. Good lord. Neither Mark nor I ate this course. Maybe they thought we were full from the 3 bites of fish and 4 bites of beef? The wine was a sparkling muscato wine (Elio Perrone, Sourgal, Moscato D'Asti 2006), though I still didn't get to see the label.
The staff at Moto were well informed, efficient and spot on for almost every step of the meal. Other than the wine snobbery, they operated like a well rehearsed ballet, gracefully placing the cutlery on the table between courses, giving us new serviettes every time we got up to go to the washroom, explaining all of the dishes, but not once did they do a quality check. Not once did they ask us "how is your meal"? Maybe they knew our answer? This takes me to the final rule of the night: 18% tip added on automatically.
We should have known better really. On a recent Iron Chef America, we watched a young chef from Chicago dressed with gadgets like a Borg use all manner of geeky devices and science techniques as he prepared an array of ridiculous dishes in an effort to bring down Iron Chef Morimoto. Unfortunately, it wasn't until we recognized the stainless steel monstrosities placed before us that we remembered the antics of the young chef. It was Homaru Cantu. Needless to say, Morimoto soundly won. The young chef's gimmicks were no contest for the more experienced veteran.
Many will argue that Chef Cantu is practicing molecular gastronomy in his cuisine, but don't be fooled. To compare Cantu's creations to Ferran Adrià's is an insult to Adrià. With liquefied salads and doughnuts combined with oddly shaped food presentations, Cantu is more disfiguring food than anything else. And not even good food. The cuisine here is overly academic and has no substance or personality despite its flashy presentation. It would be one thing if the flavours were little taste explosions in your mouth, but he's really just playing juvenile culinary games. Moto's Chef Cantu may try focusing a little less on inspiration, desire and innovation and concentrate on the basics of good food. Needless to say at this point, we would not go back or recommend the trendy, pretentious and overpriced Moto. Sorry Keith.
Moto is located 945 W Fulton Market in Chicago, IL; (312) 491-0058, www.motorestaurant.com/flash/index.html