Tap News From The Alibi: May 9th, 2009
Posted by Jer Thorp on Saturday, May 9th, 2009
Tags for this Article: alibiroom, beer, brewing, hops, microbrew, swans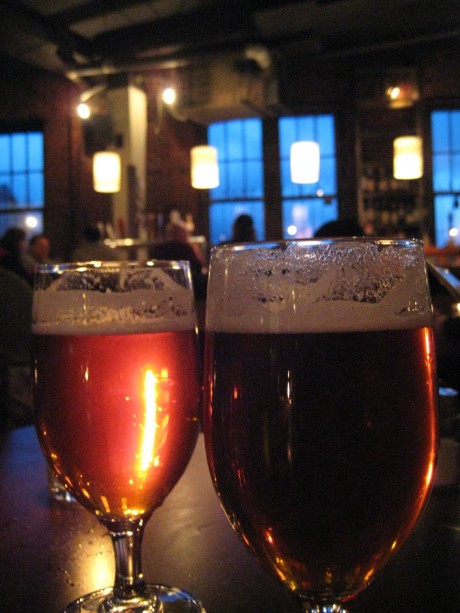 I spent a couple of hours at the bar of the Alibi Room on Thursday, catching up with Nigel and finding out what what's on tap, and what's coming up over the next few weeks. Let's start off with some highlights from the beer list this week. Comments from Nigel are marked 'N.S.' while my own comments are marked 'J.T.':
Casks:
Iain of Yaletown's Oud Bruin Sour Blend – NOT an entry-level beer! -N.S.
Vern of GI's Tap Room's E.S.B. – A generously dry-hopped, easy on the ABV's session beer. Vern does good work. -N.S.
R&B Hoppelganger – A fixture in our cask lineup for good reason. Dry cascade-hopped. Juicy. Delicious. -N.S.
Kegs:
Pike Brewing Extra Stout – I've been waiting months for this stuff to get to town. Of course we are the first to pour a Pike beer! -N.S. This one alone is worth heading down for – I've had it on tap in Seattle and it's excellent – J.T.
Swan's Coconut Porter – The coconut in this one isn't overwhelming at all, but it adds a nice toasty flavour – J.T.
Swan's Legacy Ale (Barley wine aged on oak & spanish orange peel – 11% ABV)
Spinnaker's Guarana IPA – Interesting & Tasty – not sure i'd class it as an IPA but that's what the brewer called it. It's very dark. – N.S. Tried this one on Thursday. Definitely NOT an IPA, but a pretty tasty beer nonetheless. – JT
Longwood Schwartz Bier – Harley does a German black lager with awesome results – N.S.
Surgenor Brewing Red House Ale – I brought the beer over from the island to pour at the Alibi for those who might be curious and don't get to Comox very often! – N.S.
Notes & Upcoming
The metro boys are really producing lately. We are always pouring interesting selections from the brewers of our vancouver brew pubs including Derrick of DIX, Iain of Yaletown, Dave of Taylors' Crossing and Conrad of Steamworks.
Oh and I should mention too – I have some beer coming from a tiny little brew pub in Shuswap called Barley Station. Don Moore is their brewer. He also happens to be the BC rep for Canada Malting and seriously knows his shit. Looking forward to that.
AND Cider Master Alister from Seacider (the organic cidery on the island) has been bourbon cask conditioning a really special brew for us. Look out for that. It's gonna be awesome! – N.S.
That's it for this week. I'm heading down to the Alibi tonight for a few pints before the hockey game – maybe I'll see you there!
-J.T.