On The Side
Posted by Alexa Clark on Tuesday, October 2nd, 2007
Tags for this Article: appetizer, bean, dessert, list, potatoes, rice, side dish, thanksgiving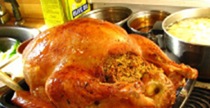 Thanksgiving is almost upon us and it's time to start the menu planning and shopping.  But once you've got your turkey and stuffing, what else will fill your plate?
I'm a fan of riced potatoes, green beans tossed with butter & garlic, corn and this rockin' fresh cranberry relish my MIL makes.
What are your favourite Thanksgiving side dishes, appetizers and/or desserts?