Turducken for Thanksgiving
Posted by Mark Busse on Wednesday, December 5th, 2007
Tags for this Article: chicken, duck, meat, thanksgiving, turkey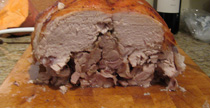 I love Thanksgiving dinner. Who doesn't? I could skip the creamed corn and yams mind you, but come on…turkey, mashed potatoes, gravy, cranberry sauce, oh ya…bring it on. The only way I could think of to kick it to a whole new level this year was by making a turducken.
You don't know what a turducken is? Please! De-bone a chicken, shove it into a de-boned duck and then shove that into a de-boned turkey. Roast that big boy like you would a normal turkey (I like to cover it in thick sliced bacon) and you've got just about the tastiest feast of bird you've ever tried. Just look at the photo above. Need I say more?
And let me say this: the drippings from a turducken make the best gravy ever. I didn't add a single thing except flour, water and a little cream and produced the yummiest gravy of my culinary career.
Click here for more photos from our turducken Thanksgiving dinner (note the sleeping beauties—ah, lovely tryptophan).