Saltlik Licks
Posted by Andrea Busse on Monday, November 26th, 2007
Tags for this Article: meat, restaurant, review, Saltlik, vancouver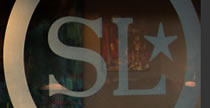 Last night, a group of us descended on Saltlik on Alberni Street. I normally have an iron stomach, but last night, it didn't stand the test of Saltlik. I was up all night with my insides in a knot and taking trip after trip to the bathroom. And, another person in our group barfed shortly after she got home. Looks like we aren't the only people to get sick on their food. Other people have given similar reviews. But let me start from the beginning.

I knew that something was amiss when I had to spell out n-e-g-r-o-n-i for our waitress when trying to order my drink. I never did receive it because the bartender said they didn't have the right liqueurs (there are no liqueurs in Negronis). I thought that because I was in a steak house, I should order a steak. After a bit of a gong show with the appetizers (some appetizers came shortly after the main meal came), I got my steak. I asked for rare, and it came medium. Again, I'm not the only one that experienced this. Then, I could only eat half of it, because it was filled with gristle AND it was cold. I did not complain (although I should have) because there were several other people at my table complaining. Another person in our group ordered a salad, but couldn't eat it because it drenched in dressing. Our waitress never did do a quality check on my meal.

One thing that did go right was that even though we had a really big group, everyone got what they ordered. It did take some time for the food to come, but we were a big group. A lot of times, mix ups can occur and people are left waiting or getting something they didn't order. At least this didn't happen here.

Then the wait began. Dessert was never mentioned and we needed to get going to our next event. We had been done eating for a while, and it was time to get the bill. Granted, she split the bill so everyone got separate cheques, but it took FIFTY minutes for us to get the bill. FIFTY minutes for me to shell out hard-earned money for a crappy, over-priced meal. This is not cool. Total time in the restaurant – 3.5 hours.
I am never going back to Saltlik. I know people rave about the one in Calgary, and I even ate there and quite liked it. But, maybe the Alberni Street one should focus more on the quality of the food over the decor and cool-factor of the place.
And now, I'm going to go take more Pepto Bismol.