Picnic Raving
Posted by Degan Walters on Sunday, September 20th, 2009
Tags for this Article: al fresco, dessert, event, outside, picnic, potluck, spontaneous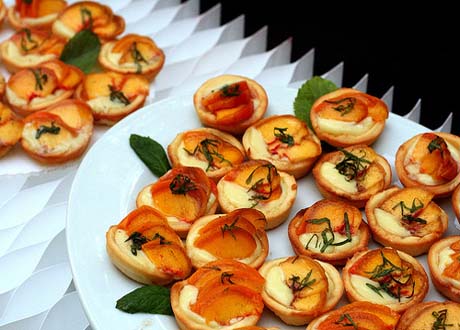 Grabbing lunch and heading off to find a field or beach to dine en plein air is a timeless tradition, but in the middle of a city? less so, perhaps. And yet, a couple of weeks ago my friends and I sat down in a square in Yaletown and ate a sumptuous meal while envious pedestrians eyed us from the sidewalk. The group responsible is called Al Fresco Vancouver and they started up this summer as an impromptu communal dining event that endeavors to reclaim public spaces, picnic-style. It goes like this; you sign up, indicate your participation in the event, make something for a portion (8 people) of the group, and then the night before the big day you find out where it is. Kind of like a civilzed rave, with food.
The organizers have had an accordian table made that is perfectly suited for these meals. It stretches out to seat the 60 or so in attendance and then folds back up after. They also provide candlelight for when it gets dark, but everything else – cutlery, glasses, food, drinks, cushions – you bring yourself.
We brought BBQ bourbon chicken, heirloom tomato salad and mango quinoa salad, but there were desserts and sumptious dishes the whole length of the table, including a much-ogled olive-stuffed leg of lamb.
The idea of spontaneous suppers was started in Paris and the Vancouver organizers have kept it pretty much intact, including the summer whites dress code. It was great fun to get together and meet some new people over a picnic. I wish there was a way they could continue it into the winter.
Photo credit: Jules Morgan