My stomach says no
Posted by Stephanie Co & Todd Smith on Tuesday, November 27th, 2007
Tags for this Article: denmark, Le Le, review, Travel, Vietnamese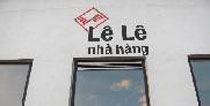 For a long time now Vietnamese food has held a special place in my heart; I can say that hands down—when prepared correctly—it is the best food money can buy. It's not just the way the Vietnamese prepare food, it's the very culture that it has come from. I love the language, I love the mentality, and I definitely love the Vietnamese sense of humor. When I first came to København, I heard nothing but rave reviews regarding Lê Lê. It is described as a "must see" on countless guides, it is constantly packed to capacity, and this evening I was lucky enough to finally be treated to a couple of courses at Lê Lê's slick downtown haunt.

Walking through it's doors, Lê Lê fires on all cylinders, it's contemporary design and laid-back vibe pulls you into it's warm ambience. Massive paintings on every feature wall beckon you, almost as if they were Bui Xuan Phai or Nguyen Thanh Binh originals, someone did their homework. Cozy benches line the walls in front of massive windows that frame it's location on the corner of Vesterbrogade and Stenosgade, it's seemingly French-colonial inspiration borrows the best from Vietnamese architecture, once again, someone was thinking.
It's a sad thing to say, but all of my enthusiasm towards Lê Lê came to a crashing halt the minute I looked at the menu. The courses were bland, conservative, and painfully København—for lack of a better word. This city has a habit of labeling a restaurant Vietnamese, Japanese, Chinese, or Thai but slipping into the mistake of painting over the beautiful cadences of these cultures with one sloppy brush stroke that says, "ASIAN."
"With any rising middle class and exploding economy come fusion restaurants with crappy food and novelty martinis." -Anthony Bourdain to Time Magazine.
Bourdain spoke of modernization in Vietnam, but he hit Lê Lê dead on. They pulled out every stop to achieve a high level of sophistication, but failed miserably and came off as another entry in a sinking barrel of pan-asian "Fusion" restaurants.
A word of advice, do not enter Lê Lê if you love Vietnamese Iced Coffee.
While appetizing dishes were few and far between on the menu, they knew how to present them, with a quick look around the room I had a few choices. I went for the soft-shell crab and fresh salad rolls for starters. The crab came out soggy and was coupled with some of the weakest, unappealing fish sauce I've ever tasted, they may have well walked down the street to Jensens Bøfhus and stole a finger-bowl from one of their servings of ribs. The greens were good, but the combination of grease and a soggy, slimy, flat texture completely ruined the dish. The salad rolls were decent, but the wraps were a little too thick, loosely folded, and they lacked any semblance of a chewy texture, crunchy greens, or well-prepared shrimp, they tasted old.
I give sympathy to the server that brought our food out, his effort to explain the dishes was translated from Danish to English and although well-spoken, his lack of energy, general interest, or understanding defeated the purpose of an explanation.
The mains were utterly disappointing, following them in the menu was text to this effect, "The small dishes are for sharing, the large ones are not." It's hard to imagine Vietnamese food with the concept of a communal meal removed, this notion single-handedly assured that I will never enter the establishment again. As my parents—who've never eaten Vietnamese before—and I enjoyed a taste from each-others selections, we were often met with the disgusted gazes of the Lê Lê servers. They didn't botch the Vermicelli or rice, but unfortunately the same could not be said for the chicken, pork, and shrimp. Everything seemed a little off; a little soggy, a little old and an encore performance by Lê Lê's fish sauce once again failed to impress. The service was among the worst I've encountered from a restaurant of this calibre and we ended up skipping dessert completely as the servers were more interested in closing out the night.
In short Lê Lê was very chic and very trendy, it was another horrible, over-priced, over-decorated solution to a western view of Asian food. If you find fake, "We can't do it right, so let's call it fusion cuisine" unbearable, keep on moving down the street.
Lê Lê Vesterbrogade 56, Københaven, Danmark, Phone 33 22 71 35, Mon & Weds– Sun 11.30am–11pm.