Bugs at Vij's?
Posted by Mark Busse on Monday, July 14th, 2008
Tags for this Article: Bizarre, bugs, indian, vancouver, vij's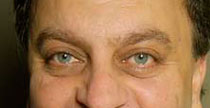 Apparently the rumours are true. Vikram and his wife Meeru—ever keen to save the planet with green choices—have introduced environmentally sustainable and good for you BUGS to their menu. I've eaten bugs before, but never as crunchy bits in a curry or as a ground component in paratha (Indian flatbread)—the first dish on the menu to feature roasted crickets!
I wonder how this will go over with Vij's loyal followers used to their more gourmet offerings? Anyone up to go try it?
Vij's is located 1480 W 11th Avenue in Vancouver, BC; (604) 736-6664, www.vijs.ca