Delfina = Delightful
Posted by Mark Busse on Friday, July 25th, 2008
Tags for this Article: delfina, italian, mission, restaurant, review, san francisco, trattoria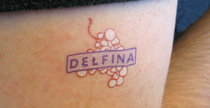 I've recently become increasingly aware of how disingenuous "new" restaurants can be, many of which seem to be responses to the latest trend (as if charcuterie and wine bars are an original idea). I guess I like old school better: authentic cuisine passionately created by folks who spend more time considering the ingredients and service than funky lighting, posh furniture or squeeze-bottle plating. I recently discovered a fantastic example of this in a restaurant called Delfina in San Francisco's Mission district.
This hip neighborhood Italian trattoria and pizzeria is the kind of spot where the room, while quite nice, isn't overly ordained and the tables and chairs are rather humble—in fact, a simple bench runs the length of one wall. One can barely hear the music over the din of excited diners chatting away and the clatter of dishes and shouts from the kitchen. This is not a pretentious room at all, but that's sort of my point here. Restaurants should be a comfortable environment where you go to experience the joys of discovery and rapture of eating lovingly prepared food. Delfina does not disappoint.
I ate at Delfina twice during my recent business trip to the Bay Area, and both times selected from the primarily Italian menu almost randomly without disappointment. On the first night I started with grilled  calamari which came atop a plate of warm white bean salad with salty olives—the BEST calamari I've ever eaten—followed by wild salmon cooked medium-rare inside a fig leaf with tarragon caper butter and a glass of earthy Italian red (their wine list is terrific). Even the rustic bread—made on site of course—was special, served with hand-whipped butter sprinkled with delicate crystals of salt. This was a meal to contemplate as I enjoyed a warm summer evening walk through back streets on my way back to the hotel. I awoke thinking about that calamari the next morning.
During the PSFK conference on my second day, there was a panel discussion with local professionals about what made the Bay Area so unique where one of the panelist claimed that a local restaurant named Delfina was "the best restaurant on Earth". I couldn't believe what I'd just heard. So, later that day, my friend Lauren and I called the restaurant and convinced them to sneak us in without a reservation—and they did! Even that flexibility demonstrates the terrific attitude they have toward customers. I ordered the cured anchovies "nostrano", which were so fresh and light with surprising lemon zing, followed by a perfectly-cooked hanger steak and French fries (I'll never know how they managed to get it so hot without overcooking a piece of meat so narrow). For dessert they gladly customized the chocolate-smothered profiteroles, swapping the espresso gelato for something caffeine-free. One word: awesome.
I've not read a single review for this restaurant and don't really know anything beyond that which I experienced in my two visits, but this is clearly a place run by foodies who are passionate about creating a comfortable environment and serving soulful food like an Italian grandmother would make—not the latest restaurant trends. It just works. It works so well, that even though they're polite (and unpretentious) enough to put salt and pepper shakers on the tables, I doubt anyone ever uses them. Why would they? And if they change nothing, I'll bet they will be around long enough for me to visit them again for years to come on future trips to the city by the bay.
Sorry for the lack of photos of the restaurant or my meal. I was simply so disctracted by the food that I forgot to take any—both times. But there are plenty of photos on the web, and I did get a tattoo as an expression of my loyalty to one of my new favourite restaurants (it's a stick on of course).
Thanks to Lessley Anderson from Chow.com for referring me to this amazing spot. Delfina is a genuine trattoria in the grand old tradition, not just another "new" restaurant riding the latest fad or hiding its mediocre menu or service behind a fancy room or trendy gimmicks. I'm not sure if it's "the best restaurant on Earth", but for me "Delfina" will always mean "delightful".
Delfina is located at 3621 18th Street (near Guerrera) in San Francisco; 415-552-4055, www.delfinasf.com