Tales of the Leftover Xmas Eve Ham pt.1: Polenta and 3 Mushroom Casserole (with aforementioned ham..)
Posted by Kevin Broome on Monday, December 29th, 2008
Tags for this Article: ham, italian, Mushrooms, polenta, recipe, rustic, Tales of the Leftover Xmas Eve Ham
We had Xmas Eve at our place this year with Jane's parents, her brother and his wife. Due to factors well beyond our control (insane weather patterns, traffic mayhem & an 18-week-old daughter)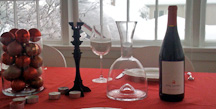 we decided to keep it simple: salad, scalloped potatoes and a ham — which I criss-cross cut the outer skin of and embellished with a clove at each point of the resulting diamond pattern prior to reheating. It was a great meal, flanked on either side by terrines and cured meats & cheeses and brilliant desserts and washed down with a 2004 Dirty Laundry Pinot Noir which I had been keeping around for just such an occasion.
But at the end of it all, we were left with a hell of a hunk of ham; a seriously substantial section of swine still clung to the bone making it clear that we were gonna be in need of some creative cooking in the week ahead to keep things interesting. The recipe below and the posts that follow are some of the highlights from the week in question.

Polenta w Ham and 3 Mushroom Casserole
Preheat oven at 400F.
For the polenta:
1 cup polenta
3 cups water (+ more water if necessary)
salt
Bring salted water to a boil. Add polenta. Stir and stir and stir some more until the polenta is of a single consistency, almost doughlike. At this point, spread the polenta evenly across the bottom of an olive oiled baking pan.
For the Ham: Cut up enough ham to cover the top of the polenta. Add this to the pan.
For the Mushroom Layer:
olive oil
2 cloves of garlic – chopped
4 small shallots – chopped
small handful of parsley – chopped
sprinkling of dried oregano
few drops of truffle oil
handful each of button mushrooms and oyster mushrooms (or whatever you got) – chopped
small handfull of dried porcinis – chopped and soaked in water (save the water, in fact just dump the mushrooms and the soaking water into the pan at the same time)
green beans – ends removed and chopped into thirds
1 cup white wine
1/2 cup chicken broth
salt & pepper
Heat the olive oil in a pan. Add shallots and garlic and cook until shallots begin to look transluscent. Add salt (I always salt my onions), parsley, oregano and truffle oil and cook enough to get the flavours opening up. Add the mushrooms and green beans and stir. Add the white wine. Stir. Add chicken broth and simmer for a few minutes assuring that you keep a decent amount of the liquids. Season as you see fit.
Pour Mushroom Layer over the Ham Layer in the pan. Top generously with grated Parmesan cheese and bake it for approx 20 minutes until it is looking crispy. Remove and cut into squares.
We had this with some — also leftover — Oyster Bay Sauvignon Blanc which seemed to do the trick quite nicely.
Enjoy.