Tales of the Leftover Xmas Eve Ham pt.2: Ham, Shrimp & Capsicum Pasta
Posted by Kevin Broome on Thursday, January 1st, 2009
Tags for this Article: capsicum, ham, italian, Pasta, recipe, shrimp, Tales of the Leftover Xmas Eve Ham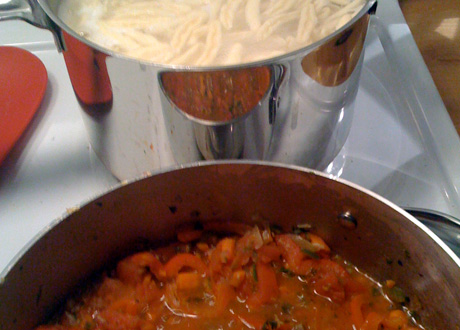 We are currently on a fairly tight schedule with our daughter Caia when it comes to bedtime which means that I typically prep for a meal before we start our routine of bath, massage, story, feed & bed and then I cook it up once she is down (and stops crying..we are still working on that). Anyway, the dinner here worked perfectly for this situation as I made up three prep bowls and — aside from the addition of some stock and honey –– just dumped them in at the appropriate points in the process.
A note on the baby shrimp: we will sometimes buy the packaged precooked baby shrimp for a really easy meal with butter and baguette and salad which was the initial intention for this particular evening's meal but the winter weather and the ham (did I mention the leftover ham?) demanded something a little more rustic and hearty. So I used what we had. It worked beautifully but I'm sure other prawn/shrimp options would prove equally tasty (Just be aware that in the directions below, the key word is "pre-cooked").
For the pasta, I used Cavatelli but it would work with any type possessing suitable cracks and crevices to catch all the goodness.
Bowl 1
4 small shallots – finely chopped
2 cloves garlic – finely chopped
1 stalk celery – finely chopped
1 carrot – peeled and finely chopped
fair shake of oregano
small handful of parsley
salt and pepper
Dump the contents of Bowl 1 into a well olive oiled sautee pan. Cook for at least 5 minutes on medium or until everything starts to soften.
Bowl 2
1 Serrano pepper – seeded and finely chopped
1 capsicum (a plain old red pepper but "capsicum" sounds fancier in the recipe title) – seeded and thinly chopped
4 plum tomatoes – diced
Additional ingredients
half cup of chicken stock
swirl of honey
Add contents of Bowl 2 and stir. Once the tomatoes start to break up, add the chicken stock and honey and stir some more.
Bowl 3
precooked baby shrimp
ham
The ham and baby shrimp both get thrown in as you are pulling the pan off the burner and draining the pasta. Toss them into the mix and then add the pasta, give it all a few seconds to fuse and you are good to go.
BTW..matched this meal with a bottle of Sogrape 2005 Vila Regia Red from the Douro region of Portugal which only cost me $8.99 here in BC (even cheaper in ON … probably anywhere else in the world for that matter.) Old World nuance and a beautiful finish on this wine make it one of the best value buys out there right now.