Seattle's Lark is No Joke
Posted by Mark Busse on Sunday, January 18th, 2009
Tags for this Article: Lark, restaurant, review, Seattle
A while ago I spent some time in Seattle and having already visited numerous of their offerings, I wanted to explore some new restaurants, so I asked Colin for a recommendation. He checked with some chef friends and the consensus was Lark—and they weren't kidding around.
As we approached the location on 12th Avenue in Capital Hill, my cab driver explained this was the "the hippy and gay neighbourhood", to which I replied "Good!" as I've always preferred the people in alternative neighbourhoods like my own in East Vancouver (Commercial Drive).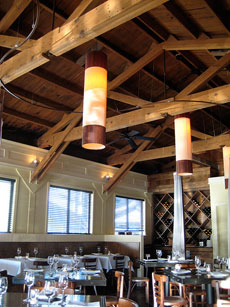 In its fourth year of business, Lark's interior is simple, clean and unassuming. With old exposed beams and dark hard wood floors, it conjured childhood memories of a cabin or chalet. The hanging draperies and candles gave the room an elegant and intimate feeling. I was dining solo and  no reservations, but this didn't present a problem for the popular restaurant and they quickly found me a spot at the bar near the kitchen.
The menu was a touch daunting at first glance with numerous items to chose from, plus the evening's specials. When I asked my servers about the style of food, she explained that the Chef's goal was to create fun, small plates by combining old world European techniques with sustainable products from local farmers and artisans. As a result, the menu has an eclectic selection of cheeses, vegetables, charcuterie, fish and meat dishes.
As I often do when trying new restaurants, I ultimately asked for the Chef to choose three selections for me. I find this a terrific technique for discovering what is freshest or what Chef is particularly proud of that day.
Sitting  at the bar allowed me to observe the action both in the kitchen and in the dining room—the perfect stoop! The service staff were warm and friendly, chatting with me as I sat at the bar alone with my book. However, the Chef-Owner Johnathon Sundstrom, who came to the bar numerous times to chat with a regular customer, oddly never acknowledged my presence or said hello, although he did to the man sitting next to me.
My meal was a memorable one, though I shall not bore you with unnecessarily long descriptions of my meat and cheese plate, warm olives, wonderful braised rabbit or delicate desert. Just go try it for yourselves and you'll know what I'm talking about.
I've since been back to Lark more than once and believe it's one of Seattle's best restaurants—even if it's tucked into the "hippy and gay neighbourhood". Now that's no joke.
Lark is located 926 12th Avenue (near Pike Street) in Seattle; 206-323-5278, www.larkseattle.com