Edna Lewis's Oyster Salsify Stew
Posted by Mark Busse on Tuesday, February 17th, 2009
Tags for this Article: Clint, Edna Lewis, oysters, salsify, southern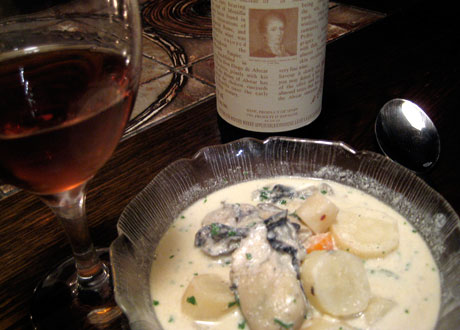 It occurs to me that my very good friend Clint is partially responsible for my food fixation. You see, we lived together when we were much younger men and used to experiment in the kitchen together. I have fond memories of cooking with Clint, creating fancy dinners for our friends—although our more adventurous culinary exploits backfired as often as succeeded back then. Ah, good times.
These days Clint lives far away in Ottawa, but still tinkers in his (much fancier) kitchen and recently sent Colin and I one of his favourite recipes: Edna Lewis's Oyster Salsify Stew. We're always up for something new, but wait—salsify? What the dickens is salsify? And who the heck is Edna Lewis?
Turns out salsify is an aristocratic heirloom vegetable from Colonial America that tastes faintly of oysters. Salsify (tragopogon porrifolius), also known as purple salsify and black oyster plant, has a delicate flavour reminiscent of both oysters and artichokes. Common preparations including boiling whole until tender (peel either before or after boiling, but if the former, place peeled root in acidulated water to prevent discolouration and be prepared to deal with sticky sap) and finish by cutting into smaller pieces and sautéing in butter or oil. It is also often served puréed or with a cream sauce. I haven't seen salsify before in grocery stores, but I got mine from Don and Joyce over at South China Seas.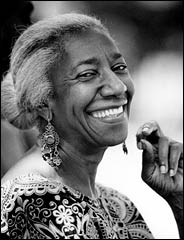 And Edna Lewis was the granddaughter of a former slave whose cookbooks revived the nearly forgotten genre of refined Southern cooking while offering a glimpse into African-American farm life in the early 20th century. Miss Lewis died at the age of 89 in 2006.
Miss Lewis's salsify stew is rich with succulent oysters that have been panfried first to deepen their flavour. Dish it up as Sunday supper around the kitchen table or use it to kick-start a dinner party. On a cold winter's night, wrap your hands around a bowl of her oyster stew and you will begin to understand why her contribution to the world of comfort food cannot be overstated. Miss Lewis, by the way, shucked her oysters with an old-fashioned beer-can opener.
Below is the recipe Colin and I used this weekend, which should only take about 20–30 minutes to prepare from start to finish. It serves 8, so if you can manage to not go back for seconds or thirds (good luck), it'll make an excellent lunch the next day!
1 cup whole milk
1 cup water
1 ½ Ib salsify
6 dozen shucked East Coast oysters (1 ½ qt including their liquor), oysters picked over for shell fragments and
liquor reserved
1 qt half & half
1/3 cup medium-dry Sherry
Rounded ¼ teaspoon cayenne
½ stick unsalted butter
3 tablespoons finely chopped parsley
Bring milk and water to a simmer in a small saucepan. Meanwhile, peel salsify, then cut into ½ inch pieces and transfer to simmering milk mixture. Simmer uncovered, until just tender, 20 to 30 minutes, then drain, discarding liquid.
Heat oyster liquor in a large heavy pot over medium heat until hot. Stir in salsify, half-and-half, Sherry, cayenne, and ¾ teaspoon salt and cook, stirring, until heated through (do not let boil).
While mixture heats, melt butter in a 12-inch heavy skillet over medium-high heat until foam subsides, then cook oysters, stirring occasionally, until edges begin to curl, about 3 minutes. Spoon oysters with juices and butter into stew. Stir in parsley; serve immediately.
Note: Colin and I decided to add a simple sautéd mirepoix (onions, carrots, and celery) to add some richness and depth to the flavour of the soup, making it reminiscent of a hearty seafood chowder. You could also try adding sautéed mushrooms and shallots to the soup to add more complexity if you feel inspired.
We served our delicious soup with Alvear's Amontillado (very similar to sherry) from Spain, which we also used in the stew's preparation. A perfect match. Oh, and make sure you have some fresh bread on hand to soak up some of that delicious soup…oh, so yummy.
Thanks Clint for this amazing recipe—our only regret was that you weren't here to enjoy it with us.