Tap News from the Alibi: 02/18/09
Posted by Jer Thorp on Thursday, February 19th, 2009
Tags for this Article: alibi room, beer, brewing, chocolate porter, rogue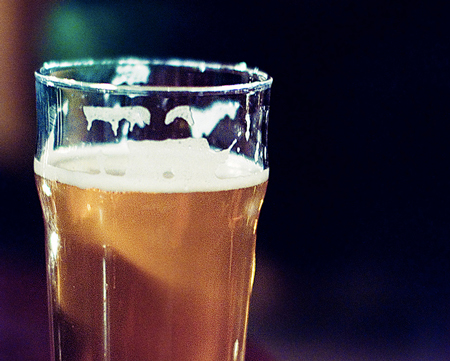 Beer lovers in Vancouver will know that The Alibi Room is the place to go for a pint (or six). While the Alibi's website is regularly updated with a complete tap-list, proprietor Nigel Springthorpe has kindly agreed to update Foodists with some insider information. He'll be sharing news about all things brew-related, including featured taps, upcoming beers, and tasting events. We're hoping to get fresh news every week, so stay tuned.
Here are this week's updates:
2 new beer engines have arrived and will be installed by next week, allowing for 3 full-time cask ales at the Alibi. The current cask is Longwood E.S.B. Here are some highlights from the current taps:
Harley's 6-month aged Doppelb Ale from Longwood will be co-released
Swan's Coconut Porter – yeah, that's right – coconut!
Derrick's Texan Brown Ale – pouring at the Alibi before it goes on line at DIX
Rogue's Chocolate Stout – Rogue's next tap will be St. Rogue Red (dry-hopped)
Iain Hill of Yaletown Brewing's rather incredible Ould Bruin
Conrad of Steamworks' Roggenweizen, a really interesting and rarely-brewed locally style: a wheat beer with about 30% rye grain. Tastes like banana bread!
I am going to head down there right now for a frat-bat sampler – maybe I'll see you at the bar!