Tap News From The Alibi: 03/16/09
Posted by Jer Thorp on Sunday, March 15th, 2009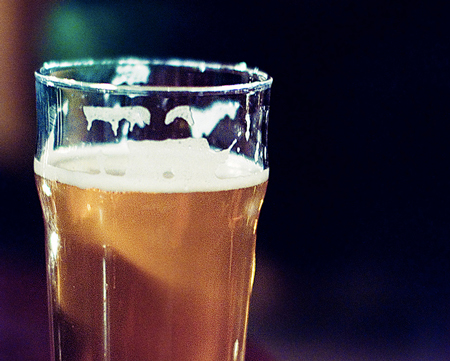 Over at The Alibi Room, the big news is in casks – with three beer engines now installed, you can now enjoy a variety of hand-drawn pints. To spread the word, and to break in the beer engines, Nigel is offering $4 pints from the casks every Tuesday. If there's a better beer value than that in Vancouver, I'd sure like to hear about it.
This week's casks:
Swans Dry-hopped Arctic Ale: A quality blonde ale with a smattering of dry hops for a nice citrus finish.
Red Truck Ale: Dave Varga gives this beer some special attention in the cask. Dry hopped with Cascade hops. Very similar to an English 'ordinary bitter' – mellow and tasty.
R&B Hoppelganger IPA: A raw and raunchy, juicy IPA. The best thing you'll taste from R&B.
Highlights from the kegs (19 taps in total!):
Swans Coconut Porter – As the name suggests, brewed with coconut.
Driftwood Blackstone Porter – Last of the season. Dry and smokey – as perfect a porter as you'll ever find.
Longwood Weizenbock – aged wheat beer.
Swans Legacy Ale – Very special, this one. Barley wine aged in oak and spanish orange peel. Brewed to commemorate Swans' 20th anniversary. 10% abv.
Rogue Brutal Bitter
See you down there on Tuesday!