Alibi Room on Tap June 2009
Posted by Ben Garfinkel on Friday, June 12th, 2009
Tags for this Article: ale, alibi room, beer, cask, keg, seacider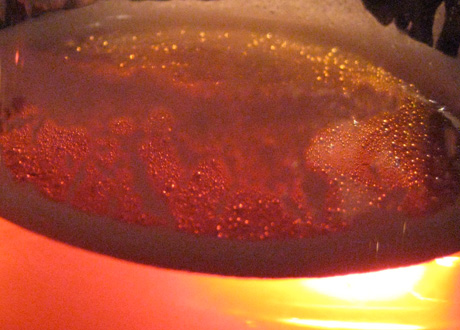 Check out what's on tap at the Alibi Room right now. Personally, I'm down for the special Sea Cider. I think I'll sneak in on Moday after work as they are planning to make a night out of it with a ploughmans platter to go with it…Hopefully my wife won't smell the dry, luscious apple scent on me!
Currently pouring:
Derrick (of DIX) – Scotch Ale – Malty, slightly sweet, little bit chewy without weighing a ton. Staff agree the best scotch ale they've poured.
Driftwood Brewing- Dry Hopped Driftwood Ale – Perfect summer cask. Utlra pale malts, dry hopped with cascades giving a great armoma and good hop flavour without a bitter kick from the boil.
R n B – IPA – Local brewery R n B's best product. Just tapped.
Today they pick up a cask of Witbier from Granville Island tap room. Not traditionally a beer style you think of in the cask, but Vern, the brewmaster has added orange peel and coriander seed and conditioned it for a month or so. My personal favourite from GIB!
Coming Monday, June 15th is a bourbon cask aged organic heritage apple cider from the excellent SeaCidery. It's been aging since October of 2008. Alister, the Cider Master is extremely proud of this very unusual only-to-be-poured-at-the-alibi cider.
Regular kegs of interest:
Rogue – Brutal Bitter – Only at the Alibi.
Swans – Coconut Porter
Swans – Legacy Ale – 008 Barley Wine aged on oak and orange peel.
Driftwood – Crooked Coast "Altbier" style ale. Munich Malts and Hollatuer make the backbone of this amber ale with a difference.
Conrad (of Steamworks) Sour Cherry Ale – 'Tis the season.
Crannog – Last of the season – Organic Hand Truck Porter – Perfect porter.
Tin Whistle – Peach Cream – It's the beer for people who dont really like beer.
Iain Hill's Heffeweizen is tasting fantastic right now too.
Plus, there's more on the way. They're on an island road trip this weekend and coming back with lots of booty.
Get drinking.