Bathroom matters. Bathrooms matter!
Posted by Mark Busse on Wednesday, April 1st, 2009
Tags for this Article: bathroom, restaurant, washroom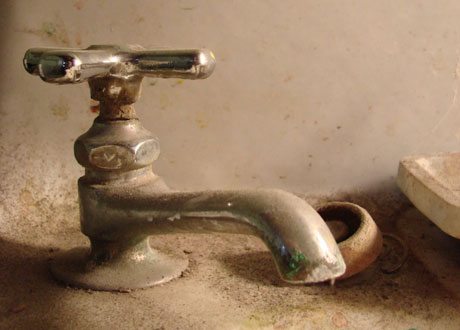 Bathrooms matter. Well for me anyway. Whenever I'm in a restaurant for the first time I make a trip to the bathroom to check it out. And as a mild germaphobe, I'm generally loathe to do much "business" in a public restroom at the best of times, but I often want to wash my hands before a meal and if the bathroom is a turn off, it can ruin the entire experience—regardless of how great the actual meal is.
In fact, I recently posted a short article about my positive experience at Deacon's Corner. This weekend I made a return trip and excused myself to use the facilities. What a disappointment. They were terrible, cold, and uncomfortable. Unlike the rest of the restaurant's interior, it clearly had not be renovated. And the sounds of the kitchen staff heard through the vents were rather disconcerting. Same story at another chic local hideaway spot I enjoy, the Greedy Pig; I have no idea how a restaurant capable of serving such fine fare could allow their bathrooms to be so awful. They smell terrible and could ruin anyone's appetite.
Asian restaurants often have the worst bathrooms for some reason—some people won't even go into them. The big dim sum restaurant Floata has terrible washrooms, as do most little Chinese restaurants like New Town Bakery in Chinatown. Phnom Penh, a Cambodian-Vietnamese restaurant in Vancouver I frequent, is another local restaurant that needs to rethink their bathrooms. No one wants to hike down a cluttered flight of stairs to a dingy, dirty, cramped washroom with no soap or paper towels. In fact, during my last visit, I found one of their patrons sitting on the toilet smoking. Even one of my favourite Asian spots, Hapa Izakaya, blew it with their bathrooms recently when I found it filled with supplies like a storage room. There are exceptions of course, such as the spotless facilities at the Main Street location of Sun Sui Wah.
I've been told that the women's washroom at the Wolf and Hound on West Broadway is the size of a sardine can, unheated (very cold these days) and filthy. Perhaps they feel cleanliness isn't important in a pub—but I call bollocks. The sad reality is that there are more crappy bathrooms than good. I really don't get it.
But what makes a great bathroom? Is it the style? Cleanliness? Amenities? I'd say all of the above. When a restaurant takes care to create an inviting bathroom and keeps it clean and well stocked, it sends the message that the management and staff are as serious about my overall experience and food safety as they are today's special.
Many smaller restaurants have chosen to not have gender-specific bathrooms, it becomes increasingly more important to create a comfortable and clean environment for their guests. And with women using the same bathroom as the men—who are often slobs, let's face it—the usage doubles, requiring staff to pay closer attention to the cleanliness of the facilities.
Many restaurants do a terrific job with their bathrooms. Western Canadian restaurant chains like Cactus Club and Milestones may not often get props from gastronomes, but they always have terrific washrooms—the Cactus Club location at Broadway & Ash has arguably the best bathroom in Vancouver with its art, couch, mood lighting, and automatic dispensers. It's more of a lounge than a water closet.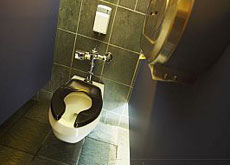 The washrooms in The Four Seasons new restaurant Yew are brilliant. As are the ones in The Loden Hotel's Voya. Both are comfortable, classy expressions of the restaurants' attention to detail, they're roomy, well lit with lots of counter space and little touches like baskets with real towels, hand lotion and full length mirrors. Women appreciate full-length mirrors. Speaking of hotel washrooms, the washrooms at The Wedgewood are lovely but they're too far from their restaurant, Bacchus. You have to trek through the lobby, down hallways and even down a flight of stairs, but once there, the lovely patterned wallpaper, antique furniture and appointments serve to remind you that you're in one of Vancouver's nicest dining spots.
And don't whine to me that bathrooms are expensive to decorate. Baloney. At Zakkushi on 4th, the bathroom is unpretentious and genuine with its handmade Japanese papered walls, flickering candlelight and quaint bamboo water fixture like a little stream pouring over carbonized wood—a nod to the charcoal being used to prepare the food. It even has mouthwash!
There used to be a quirky, high-end tea salon in café in Yaletown called Don't Show The Elephant (a name I'll never understand) that had a bathroom as a centerpiece. The door had a clear window offering patrons a clear view of the toilet, confusing me greatly my first visit, but when you closed and locked the door, the window would magically become opaque white. Voila! Privacy. Now that's a bathroom concept.
I'm not saying every restaurant has to spend a fortune on their bathrooms and create little intimate rooms with candles, cloth hand towels, and incense, but make an effort folks. Your bathroom says as much about you as a restaurateur and your attention to details as your menu. Don't even get me started about restaurant websites.
What washroom horror stories or fabulous bathroom discoveries have you made in your restaurant travels? Whose done a great job of their bathrooms and who's in dire need of a renovation?