Notes from the Underground – 12B
Posted by Kevin Broome on Thursday, April 2nd, 2009
Tags for this Article: 12B, reviews, underground restaurants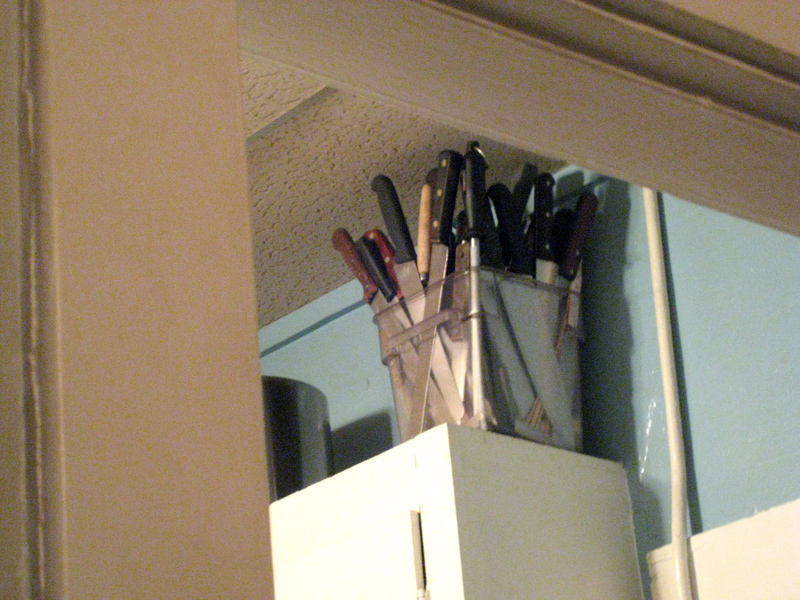 We have all heard those urban myths, of bathtubs filled with ice and missing kidneys and crocodiles the size of Civics swimming through our sewer systems. Such tales are always related to you a couple of degrees removed via a friend of a friend's brother so as to create sufficient distance from the need for any requisite proof.
In foodist circles, the urban myth you hear of most is underground restaurants, eateries that exist under the radar serving up rogue fare to a select and discreet clientele. There is the Whisk and Ladle Supperclub in Brooklyn, a three chef loft operation and the Ghetto Gourmet in San Francisco, a transient dining experience that sets up in warehouses, gallery spaces, backyards, farms and parking lots. Here in Vancouver, we have Chef Todd's 12B, and this past weekend saw the Foodists with an exclusive booking at this clandestine dining spot.
12B –the name is literally Chef Todd's apartment number– was started in November of 2007. He explains that he was "trying to figure out a way to feed more people without being chained to a menu or having to cook the same thing over and over." Unlike other underground restaurants where you might find yourself at a table of strangers, Chef Todd limits an evening to a single group of 6 to 10 friends at a time. "The pretensions aren't the same in an environment where it is just you and your friends," he states. "Wear what you like; drink what you like; act how you like; smoke what you like. Table conversation is a little more open as well when you don't have to worry about offending the people at table 23 next to you."
Asked about the next steps in the evolution of 12B, he says that he would like to throw similar evenings but in more unlikely locations: "underground parking garages or lavish affairs in abandoned buildings". But in the meantime, his apartment, with its gritty urban art on the walls, the fully stocked kitchen and bucket of knives sitting high on a shelf, set a tone that immediately assured us that we were in for a treat.

The meal started with an asparagus white wine soup with triple-cream Brie, garnished with asparagus tips. The soup was slightly thicker than I usually like, but it made up for it with really rich, meaty flavour. The Brie provided a hint of sourness to the soup, without actually being sour. And the asparagus tips were a nice, woody contrast to the creamy soup.

The next course was a watercress salad with blood oranges, cannellini beans, and halibut cheeks. Chef Todd could have just served the watercress and blood orange salad and I would have been happy. They paired really nicely together and stood up well to the punchy, garlicy vinaigrette. The halibut cheeks were lovely and meaty, and the hot-cold combination of salad and fish was really nice. This dish paired really well with the Quail's Gate 2007 Chenin Blanc that someone brought.

The third course was the crowd favourite: rabbit with goat's cheese mousse, arugula puree, artichoke-mushroom duxelle, and balsamic figs. The rabbit was a 12B first, and a first for many people at the table. After having a pet rabbit growing up, I didn't know if I could eat this dish. Well, I tried it and I'm glad I did. The dark, slightly oily rabbit meat paired nicely with the goat's cheese mousse. Apparently the mousse wasn't what Chef Todd had planned, but it was still delicious. It was light, tangy, peppery and garlicy all at once. The arugula puree was a spot of bright green, on the plate and on my tongue.
The rabbit paired beautifully with a Castillo di Bossi 2003 Chianti (courtesy of Johnathan, I think).

Next, we had ribs, lovingly caressed by Chef Todd's "Daddy's Barbecue Sauce" (spoken with requisite twang). The ribs were tender, and the barbecue sauce complex and delicious. The ribs were served with a spicy, chocolaty black bean mole and truffled corn. The corn was perfectly cooked, slightly crunchy, and oh so truffle-y.

The last savoury course was a take on baby lamb in the baby meadow: a lamb loin, cooked medium-well, served with baby carrots, potatoes, peas and pea shoots. There was a dollop of whole-grain mustard, married with extra virgin olive oil. The final touch was a drizzle of balsamic demi-glace. The lamb was delicious, especially with the mustard, and the baby vegetables were so fresh that we overlooked the fact that they were slightly more al dente than they should have been.
For the lamb, we opened a bottle of Church & State 2005 Quintessential. It's a beautiful wine, especially when it opens up a little bit.

We finished the meal with a trio of desserts. A scoop of homemade pomegranate ice cream that had little pomegranate arils in it, and tasted a little bit like honey. There was a refreshing melon salad in mint syrup, and finally a warm orange madeleine, dusted in icing sugar and resting on a drizzle of hibiscus syrup. We paired this with a bottle of sparkling muscat, redolent with lychee and pears.
In a word: delicious. For the food enthusiast looking to add a little edge to their ingestion, 12B delivers. Of course, the only problem with lauding praise and recognition upon an underground restaurant is that eventually it will be forced to surface. So perhaps we should pretend that you never read this; or that it was simply something that you heard from a friend of a friend and let it slip back into that hazy realm of mole people and bogeymen.
For reservations: [email protected]
Written by Kevin and Eagranie, photos by Nancy