All Ducks go to Heaven
Posted by Denise Boyle on Sunday, April 12th, 2009
Tags for this Article: Denise Boyle, duck, Edan Armstrong, foie-gras, meat, Vegetarian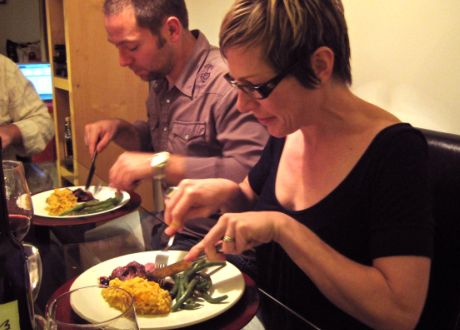 After 18 years as a vegetarian, I've started eating meat again.  Why?  Mostly, it's because I love food – I love eating, I love cooking, I love shopping for food.  Food for me is definitely one of the great pleasures in life.  That's not to say you can't eat well as a vegetarian; I did for many years without feeling I was missing out on anything.  Eventually though, I think it came down to the fact that I wanted to try something new.  The more I've become interested in food, the more I realize that there are endless flavours and textures that a meat free diet can't provide.  I've also realized that times have changed and it's now much easier to make ethical choices when buying meat – although, that sounds like a whole other post in itself.
So, you might wonder, what would be the first meat you'd want to try after so many years?  Would it be something you'd ease into with a small bite of chicken, or a taste of someone's burger?  No, not if you're friends with Mark Busse.  When Mark heard that my husband Edan and I were thinking about taking the plunge, he enthusiastically offered to make us our first meal, or "pop our vegetarian cherries", as he put it.  After much animated discussion, we decided on duck – something neither of us had ever eaten.  There was no going back from there…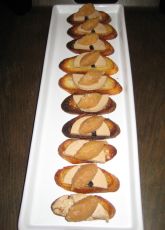 A couple of weeks later Edan and I arrived chez Busse, we were greeted with cocktails at the door and a plate of delicious looking hors d'oeurves waiting to be sampled…mmmm, what's this?  we asked…and here it is:  After 18 years meat-free, the first thing to hit my palate was foie gras on toast with homemade quince jam.  Wow!  It was spectacularly smooth, rich and extremely complex (with just a hint of ironic controversy!).  The taste seem completely foreign, yet strangely familiar – like the equivalent of muscle memory for taste buds.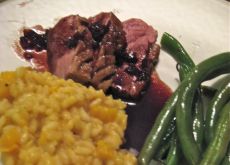 Our main course was a brand new taste sensation – duck breast with a cherry reduction, served with the creamiest squash risotto and crunchy green beans.  I was completely suprised at how dark and rich and meaty the duck was!  For some reason, I had imagined it was going to be like I had remembered chicken.  That was definitely not the case and we were thrilled to be trying something for the first time ever.  I must admit, I didn't finish all of my duck (turns out meat is quite filling!), that wasn't a problem though – it was so good that there was almost a fight over who got what was left on my plate.
Everything was perfect that night, and I wouldn't change a thing – amazing food prepared lovingly by good friends…what better way to consumate my new relationship with meat?