Easter Dinner
Posted by Denise Boyle on Thursday, April 16th, 2009
Tags for this Article: cured meat, easter, eggs, italian, Pasta, quick, recipe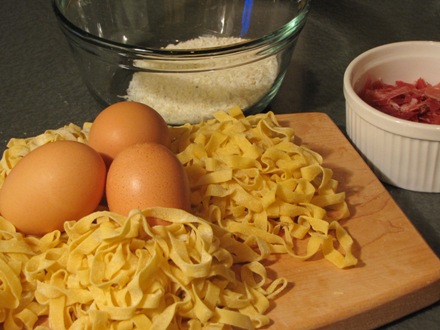 The topic of Easter dinner came up with some friends a few weeks ago; we were discussing what our family meal had been when we were kids.  Some people said turkey, others said ham, I said lamb.  I checked my Larousse, and apparently, lamb is traditional for the Easter feast in many European countries.  I doubt our family's choice of lamb was for any religious reason, it just happened to be the roast we liked the most.
 
This year, Edan and I decided on fettuccine carbonara, for no particular reason other than we had never tried it and it sounded good.  When I got to La Grotta on Commercial Drive, I couldn't remember the type of meat I was supposed to get (sorry, I'm still learning) so I asked the owner, Fortunato, and he suggested speck.  Although I had never heard of it, it did appear to be the right type of meat.  He said it was similar to the usual pancetta, but had a smoked flavour, which sounded good to me (I looked it up after the fact and it is definitely in the category of meat that would normally be used for pasta carbonara).  Armed with my speck and a nice chunk of parmesan, I headed home.  I made a quick batch of fettuccine noodles, grated the cheese, chopped-up the meat, whisked a few eggs and voila, dinner was ready!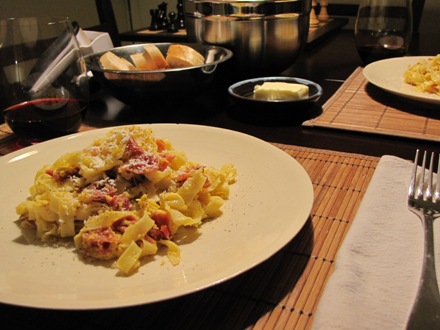 pasta:  1 1/5 cups 00 flour, 2 eggs, drizzle of olive oil – mix by hand or in food processor until ball forms; let rest 30 minutes; roll out by hand or use pasta maker to make pasta of choice.
sauce:  3/4 cups parmesan (grated), freshly ground pepper, 3 eggs, 1/2 cup diced speck – whisk cheese pepper and eggs together, lightly pan fry speck, gently stir ingredients into cooked pasta (the heat of the pasta will cook the eggs), and serve.
 
It definitely wasn't the most traditional Easter dinner, but it was delicious!  Next year, I'm thinking rabbit might be on the menu.  What was on your Easter table?