Refined Retreat on Granville Street
Posted by Degan Walters on Sunday, April 26th, 2009
Tags for this Article: charcuterie, restaurant, review, tapas, tasting menu, wine bar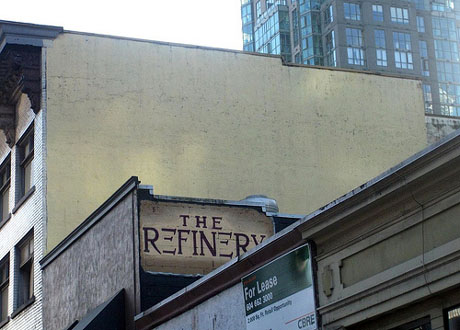 Once, when I first moved back to Vancouver, I went on a date to the Sugar Refinery. A boy and I sat on a purple couch and talked about rap music while hipsters posed around us. Both the boy and the venue were unmemorable, but now re-opened years later, The Refinery has dropped the sugar and turned utterly savoury.
Their new menu shows their focus on butcher plates; paté du jour, seafood, charcuterie, etc. $30 will get you the hand-picked chef's selection.  The plates are scaleable and easily shared and it's not a bad idea for a late night destination where people may be more interested in grazing as a group than sitting down to a large meal. Our group of three sampled German speck, bündnerfleisch, Welsh Red Dragon cheese and some Applewood from Farmstead cheeses plus a full spread of condiments; nuts, gherkins, Cipollini onions, relish, roasted red peppers and dried fruit.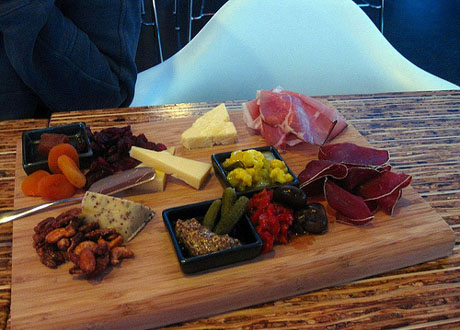 It works well, but some of the pairings seem a bit elementary. Dried cranberries and apricots like my mom used to put out after school make a great late night snack, but I'm not sure they suit the sleek décor.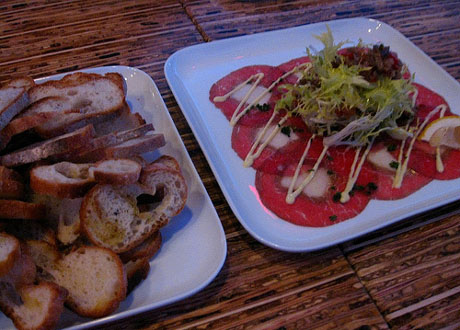 It's a smallish space, but tucked away above the hustle of Granville Street, the sexy zebrawood tables, cabinets of wine and subdued earthy tones provide a quiet escape from the neon and teetering bar-stars. There is a long barracks-style table for groups or mingling and a wood butcher's block in the middle of the back room acts as a wine showcase.
My first visit found us sitting down to an order of duck rillettes, served – like almost everything on the menu – with both fresh and hard baguette slices and roasted red peppers, frisée, Cipollini onions, roasted red peppers and gherkins. Duck fat will make even the most anhedonist swoon with pleasure, so accompanied with some flat-bread pizza and fresh cocktails, it was an all around positive experience.
Since then I've been back a couple of times. The portabello-stuffed beef carpaccio (topped with frisée and mayo) is a favorite, as is their Pancho cocktail. It's made with puréed pear, tequila, cinnamon and Similkameen honey, and is pretty much as good a it sounds. It's a really refreshing taste and I suspect I'm going to be craving it a lot come summertime.
In fact I think I'll be craving a lot more than the cocktails. The Refinery has become my de facto destination on Granville Street when I need to get a bit of calm away from the chaos and there is definitely a need for that kind of refinement.