The Treasures of Pair Bistro
Posted by Degan Walters on Monday, May 18th, 2009
Tags for this Article: oysters, Pair Bistro, restaurant, review, salmon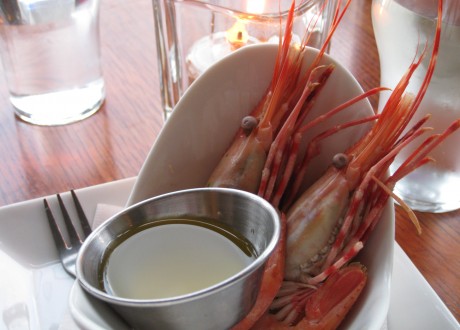 It came about not too long ago that I was told about a restaurant I'd never heard of. That doesn't happen very often so my first assumption was that it didn't exist. Pear? Pere? Pair? Pare? Hearing it spoken and not being able to envision the spelling or the storefront put it on par with unicorns for me.
It turns out that Pair Bistro does on fact exist, (altho my denial persisted up until the last, walking down the block and seeing only the shuttered doors of the bike shop) and I'm so delighted that it does.
We opened the door on an entirely West Coast room; clean lines, light and lots of glass, wood and native art. There are only about 25 seats, making it feel secretive and cozy; a little  hideaway that was to spill out local edible delicacies like a treasure chest.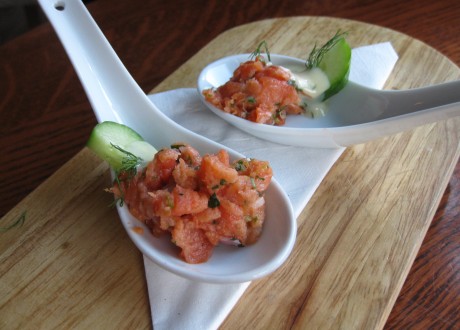 A salmon tartare amuse bouche arrived to prep our palates, followed by deep dish Effingham and Cortez Gold oysters on the half shell (plus a Fanny Bay for good measure). Local, newly in season spot prawns with lemony butter finished off the fresh, cool seafood before we moved into the warm meat dishes. Wapiti elk medallions with cherries, carrots, green beans swimming in jus and Peace River bison steak accompanied by cinnamon sugar yam fries. I was a bit suspicious of the fries, but let me tell you that paired with a flavourful mayo-based dip, they were all kinds of spectacular.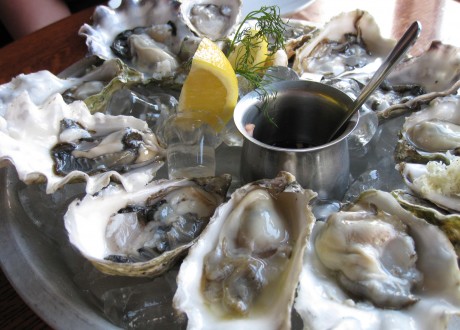 Drink-wise, I had a pear-infused martini that took me through dinner to the port-blackberry-tini. Both were full of both fruit flavour and alcohol and  made me very happy.
Service was casual and friendly, while also making sure we didn't want for anything. Not that we had room to want for anything anyways.
Pair Bistro is at 3763 West 10th Avenue.