Irashai Grill: Saucy Japanese Fusion With a Twist
Posted by Mark Busse on Thursday, May 21st, 2009
Tags for this Article: french, fusion, Irashai Grill, Japanese, restaurant, review, Sauces, sushi, vancouver, West Pender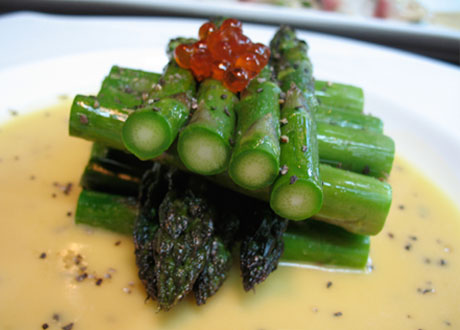 Ben and I were recently invited to join a few other food bloggers at a media tasting lunch at Irashai Grill on West Pender. But wait a second I thought, there's an Irashai downtown Vancouver? Since when? Well apparently for about a year! I had no idea. The only Irashai I was aware of was a tiny little spot in Kerrisdale that my wife loves. But it's way out on West 41st, so we rarely go unless in the neighbourhood. The original location's room is small and the ambience and service didn't bowl me over, but the food is very good. I'm happy to report the food in their much larger downtown location is just as fresh, delicious, and rather delightful with a European-inspired twist. Refreshing compared to the ubiquitous sushi experience Vancouverites have come to expect.
The invitation to this "casual bloggers/media lunch" came from a kind woman named Danielle who is working with Irashai's owners to help bolster awareness as their launch has largely gone unnoticed and business hasn't met their expectations. She described the restaurant's fare as "innovative Japanese cuisine in a casual yet upscale environment in Coal Harbour," so we figured we'd give it a try.
Intrigued, Ben and I drove there excited to try it out. The immediate problem we were faced with was the location. Where was this place? The 1300 block of Pender is a pretty fast moving section of road and the restaurant was not obvious at first, requiring a loop around the block before finding it, followed by a hunt for parking. Not super convenient.
Once inside, we were greeted by a friendly middle-aged Chinese gentlemen who turned out to be the General Manager. As the experience continued, we learned that John, who spoke rather poor English frankly, was the nephew of the owner. It worried us a little at first that the front of house at an elegant Japanese restaurant was being run by a Chinese man who struggled to explain the dishes to us, but then the food began to arrive and the issue didn't seem to matter so much. Ah, bliss.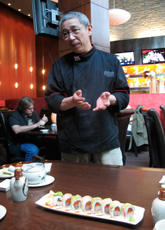 Irashai Grill's kitchen is led by Executive Head Chef Ikoma Kenjiro, who came out to greet us and explain his background and some of the dishes we'd be sampling. His training, which includes classic French, Italian, and Spanish, allows him to add to his decades of Japanese culinary expertise a unique approach to fusion cuisine. His use of sauces in particular seemed to be a strength as we began to tuck into his offerings.
A surprise to us, we began lunch with imported Japanese Sea Snails as an amuse bouche. A good start indeed! This was followed by a succulent Rib Eye Tataki with delicious garlic ponzu jelly and yuzu sauce and a Tai Sashimi with herb oil and yuzu red pepper dressing. This was a clean start to a Japanese meal with the fresh ingredients appropriate to the season.
Then Chef Kenjiro's French training became apparent as we were presented with Asparagus Salad with Ikura (roe) and egg sauce followed by Hamachi Sashimi with daikon salad and Pommery mustard dressing. These light ingredients were perfectly complemented by the rich sauces  accompanying them.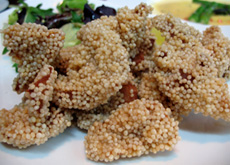 Then began the crunch, first with a Pearl Chicken Karaage—essentially savoury karaage coated in tiny balls of crispy fried rice—followed by a West Pender Roll, which is Kani salad wrapped with salmon and avocado. The chicken karaage was super fun; crunchy with surprising depth of flavour thanks to the rice.
Our lunch had already hit a high point by now and we were pleased when something called a Wild Fish Roll arrived—salmon, tuna and green onion wrapped with snapper and avocado—and a Rocker Roll—grilled barbeque eel topped with avocado and special tuna with crunch.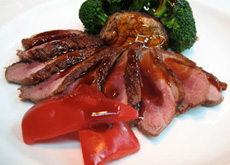 The final savoury course was more fusion, first with grilled crispy skin Sable Fish with Yuan sauce (marinated for 30 hours!), and then perfectly prepared Aigamo Duck—a favourite ingredient of French-trained chefs. Already rather stuffed by now, dessert consisted of Macha Crème Brulee with just the right amount of green tea flavour and perfect custard consistency, and Mascarpone Tiramisu—both beautifully prepared and presented.
As meal wound down, we found ourselves discussing the strong and weak points of the restaurant with our kind host, who seemed generally interested in our feedback. The location is an obvious drawback with not much walk-by traffic, but the reality is that with food of this caliber, people (like us!) will start talking and Irashai Grill will become a destination spot.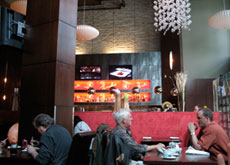 Besides a truly bizarre 70's painting of a creek and forest that seemed completely out of place, the room was comfortable with high ceilings, beautiful lighting, and use of quality materials and textures. And the bathrooms were modern and  clean. But the restaurant isn't without its flaws. The beautifully designed menu, with reasonable prices for "upscale" dining, is bloated with dozens of choices. The thick, plastic laminated "Chef's Recommendations" doesn't feel like a fresh sheet at all and I suspect it rarely changes. The Irashai identity and brand elements are were confusing and inconsistently used throughout the restaurant. The decoration stumbles at time, such as the large TVs mounted throughout the space making it feel a bit like a bar, and the street presence is rather disjointed and "schizophrenic" as one person commented. Had I not tried the food, I would normally walk right by a restaurant like this.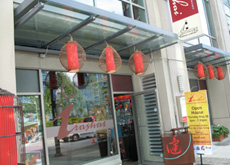 Our experience at Irashai could be summarized by the words surprise and delight. Surprise that we had no idea a restaurant of this calibre had been quietly hiding in this corner of the city, unbeknownst to us. And delight at the fun and playful cuisine that combine the best of Japanese and European traditions in a successful way. It says Japanese on the door, but this is not a typical sushi restaurant with an all-you-can-eat menu. It's also not quite a formal restaurant either—sort of reminding us of a hybrid between a casual izakaya like Hapa or Guu and a purist Japanese grill like Zakkushi.
Irashai Grill is hosting an open house featuring menu samples and Japanese beer & sake tastings on Thursday, May 28th from 5:00pm – 7:30pm. Try it for yourself and tell us what you think. RSVP to [email protected] to secure a spot.
Irashai Grill is located at 1368 West Pender St. (@ Broughton near Coal Harbour), Vancouver, BC; 604688-8697 www.irashaigrill.com