Throwing dip into the seasoning mix
Posted by Ben Garfinkel on Tuesday, June 9th, 2009
Tags for this Article: Epicure Selections, halibut, herbs, rubs, seasoning, spice mixes, Spices, steak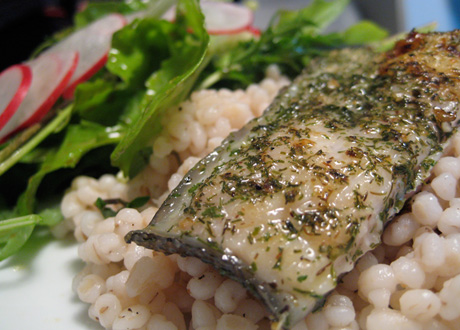 Just recently I was discussing halibut with my father-in-law who was commenting on having been served fresh halibut that was ruined by over saucing. With such a delicate flavour and texture, most halibut recipes call for a gentle touch, or are enhanced with a garnish of some kind of fruit-based salsa, depending on the season. Of course there's also fish 'n chips where halibut fills in as the premium choice over cod. At least here in BC.
But this post is really only partially about halibut. Recently Foodists received some products from a company in Victoria called Epicure Selections. According to their website the company was founded by Sylvie Rochette to address a genuine need for easy, healthful and delicious mealtime solutions. With an initial offering of four hand-crafted spice blends sold from her station wagon at local markets and consumer trade shows, the products' overwhelming popularity soon prompted the creation of Epicure Selections®.
Included in the selection sent to us was the Lemon Dilly Dip, Pueblo Bean Dip Mix, Guacamole Dip Mix, Barbecue Seasoning, Vegetable Seasoning and the Classic Vinegarette. Admittedly, they all sat around for a while since I rarely use pre-mixed anything and generally make my own meat rubs. Also, these products are not available in retail stores. You buy them online. I find the packaging design very generic and not compelling so this probably also contributed to a certain lack of motivation to use them.
First up was the Barbecue Seasoning. I opened the jar and smelled it, nothing blew me away. A taste suggested that it was a bit generic, but I gave it a whirl on a nice thick rib eye steak (how's that for committing to a trial!). I found it to be good, though somewhat lacking in salt. Maybe that's not a bad thing since it'll allow you to control the salt on your meat, but I'd been using rubs with salt and then found I needed to add seasoning after grilling (steak). I think I'll stick to my own or more specialized rubs for steak, though I think it would be a good secret ingredient on roasted potatoes.
As the father of a one year old, coming home after work and cooking isn't quite what it used to be back when we were childless. In fact, we're now also trying to eat together as a family. Not always possible, but quick meal preparations are somewhat key to pulling this off. No more mid-week whole-roasted birds. So it was we found ourselves staring at a couple of fresh halibut fillets the other night. Salt, pepper, lemon and….yes, I caved and thought I'd try using the Lemon Dilly Dip seasoning on the fish. Well, I have to say that we were suitably impressed with this one. It is fresh and tight tasting and took the meal up a notch. With no fuss and in no time flat. It's my new favourite seasoning on halibut. See the photo on this post for a shot of it (with, I might add a salad of my wife's own organic radishes and Asian greens).
Okay, so the Lemon Dilly Dip won me over on fish, but I'd not tried it as a dip. I'm also somewhat of a purest when it comes to guacamole so found it slightly amusing that the Guacamole Dip Mix instructions basically have you making guacamole and then adding in the seasoning–not much time saving there, but who knows, maybe it's amazing. Haven't gone there yet. With company coming for a meeting at my place I needed a dip for crudites so used the Lemon Dilly Mix for its intended purpose. Again, it had the nice, fresh taste I'd experienced when used on the fish. The dip was a nice change from the standard ranch dressing. It's good on potato chips too, if you're into that kind of guilty pleasure.
I tried the Vegetable Seasoning on boiled and buttered new potatoes but really disliked it. I found it gave the fresh potatoes a kind of processed flavour that was not appealing to me. Keep in mind that these dip mixes and seasonings are all made using fresh herbs and ingredients so I'm not sure what accounts for that effect. Latent taste memories perhaps?
The Epicure Selections website has all sorts of recipes available on it, so maybe if you've got your shelves stocked with their stuff you can build your meals starting with the mixes? I dunno, that's not really my style, and certainly some of these can be time savers so a selection could be worth having handy. Are they better than what I can buy elsewhere or make myself? Not really. Would I go out of my way to order them online? Hmmmm, not sure. So far maybe just when the Lemon Dip runs out since it's so great on fish. We'll see. If the company has managed to scale up their production without compromising their market fresh roots, then I'm all for it. The designer in me really wants to see new a new logo and packaging more likely to inspire me to want to stock these in my pantry, and use them from time to time.
I'm still staring at the Pueblo Bean Dip, Vinegarette, and Guacamole and will eventually get around to trying these–I'll have to get Foodist contributor Kevin's wife's recipe for guac and do a side-by-side!
Have you had any experiences with these products, specific uses, etc? We want to know.