Ling Cod with fennel pollen, summer squash and english peas
Posted by Anthony Nicalo on Sunday, July 5th, 2009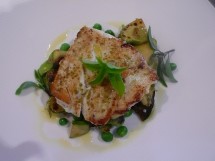 A quick trip to the Trout Lake Farmer's Market and dinner was all set, with a quick stop at South China Seas Trading on the way home for fennel pollen.
Recipe for two:
10 oz ling cod, skinned, cut into two 5oz fillets
1 lb English peas, shelled
1/3 lb patty pan squash, large dice
2 T Green garlic shoots, minced
1 T Pink shallot, minced
1/4 White wine (the same wine you are pairing with the final dish)
1 T Fennel pollen
Maldon Sea Salt
Warm oven to 450 F.
Blanch the peas, reserve.
Dust the cod with fennel pollen and season well with sea salt.
Saute the squash over high heat in a bit of grapeseed oil until nicely caramelized; add shallots and garlic saute 1 minute more; season with salt; deglaze with white wine and reduce to low simmer; add peas.
Sear the cod in a cast iron skillet with some grapeseed oil. When just starting to brown around the edges, place skillet in pre-heated oven (without flipping) and cook until medium rare, approximately 3 minutes. Remove and let rest while plating the vegetables.
Plate vegetables, fish on top, drizzle generously with Renato Fenocchio Olive Oil, garnish with a few amaranth leaves and serve.