Alibi Room on Tap – July 9, 2009
Posted by Jer Thorp on Thursday, July 9th, 2009
Tags for this Article: alibiroom, beer, cider, mircrobrew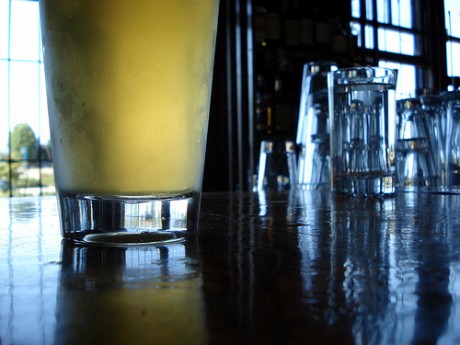 I have a classic pavlovian reaction to e-mails from The Alibi Room's Nigel Springthorpe – I start to salivate even before I get past the subject line. This week's missive is drool-worthy indeed, starting with this very exciting news:
"This tuesday 14th july, i will be tapping a cask of bourbon barrel aged (9months) organic heritage apple cider from seacider. to compliment the cider i will be tapping a cask of traditional english style e.s.b.

we thought a ploughman's platter would make an excellent addition to the evening for a real taste of sommerset.

the ploughmans will include:

berkshire pork country pate (from the cure)
canadian aged cheddar
house pickled organic eggs & beets
rustic bread from Mix the bakery
organic greens with an apple mustard vinaigrette

'simple but effective' will be the order of the day.

i have been hanging on to the cider. i think it may be gone quite quickly so make sure you get down early on tuesday."
If that doesn't sound like a good way to spend a Tuesday night, I don't know what does. I have always been a fan of a good ploughman's lunch, and it appears like all of the necessary ingredients will be on the plate (though I might sneak in a jar of Branston Pickle).
Of course the star of the show will be the cider from Sea Cider – a small ciderhouse on Saanichton, which is not too far from the Swartz Bay ferry terminal on Vancouver Island. Their artisan ciders have been winning praise from pretty much everyone who has tried them; I'm looking forward to tasting this very unusual borubon-aged cask. If you have never had an artisanal cider, you're in for a treat!
The good news from the Alibi doesn't stop there. Nigel also has a few treats on tap:
Rogue Hazelnut Brown Nectar – A classic european brown ale with a twist – the hazelnut nectar that is its namesake. It's excellent in the bottle and should be even better on tap. Expect a nice dark ale with a tan head and a malty finish.
Barley Station 100% Organic Pilsner (in a keg) & IPA (on tap) – I've been really impressed with the Barley Station beers in the few times I've had the chance to try them. Located in Schushwap (best place name in BC?), this micro micro is run by Don Moore. As Nigel says "he's a vet who knows his shit and makes fantastic beer" (in this case, I'm pretty sure that Nigel means 'a veteran of the brewing industry' and not 'a guy who neuters cats', but I'm not entirely sure.
Spinnakers Brewpub is a BC classic – it was the first pub in Canada with an in-house brewery and they've been serving up great beer since 1984. To celebrate 25 years in business, they've reworked three of their classic recipes – Spinakker's Ale, Tolmie Dark and The Abbott Ale. The alibi room has a keg of each on tap, which will save you the ferry ride.
The last of the feature kegs is Driftwood's Crooked Coast, which is an top-fermenting altbier style beer hopped up with Hallertau hops.
Often over-looked at the Alibi is the bottled beer selection. They have a great variety of hard-to-find beers and this week they've added some new ones, including beers from the Jolly Pumpkin Brewery, the hop-raving mad Southern Tier Brewery, as well as a few new Belgian and Scottish brews.
The photo at the top of this post is by Flickr user jawcey.