Contest: Win a Copy of Wisdom of the Last Farmer by David Mas Masumoto
Posted by Mark Busse on Saturday, September 19th, 2009
Tags for this Article: book, contest, David Mas Masumoto, farming, memories, Wisdom of the last Farmer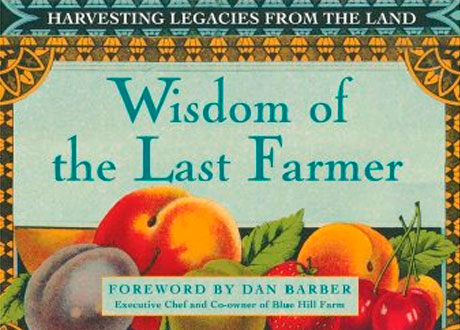 This month's contest prize is a copy of author, farmer, and slow food activist David Mas Masumoto's latest book Wisdom of the Last Farmer: Harvesting Legacies from the Land. (Free Press/Simon and Schuster, 288 pages, Hardcover, August 2009, ISBN 978-1-4165-9930-2)
David Mas Masumoto is the award-winning author of Epitaph for a Peach and other books, popular columnist, spokesperson for organic farming, and a fellow at The Kellogg Foundation. A third-generation farmer, he grows much praised certified organic peaches, nectarines, and grapes on his family's eighty-acre California farm. Masumoto began writing stories about his family in journal form after his father suffered a massive stroke in 1997 and the family struggled to nurse him back to health. The result was Wisdom of the Last Farmer.
I've enjoyed reading the first few chapters of this touching memoir, it really strikes me as a touching, highly personal story about a man's love for his father and family's love for their land—and the food they produce. This is a book about how a dedication to farming can produce tremendous results—an crops in high demand among foodies long before terms like "organic" or "local" were trendy.
Hailed by The New York Times as "A poet of farming" and the Los Angeles Times as the "Rockstar Farmer" who "uses his farm as Thoreau did his Walden Pond," David Mas Masumoto book is a series of stories weaved together about his family, farming, life and death. His beautiful prose takes the form of a memoir, but feels more like a wise sage passing along some much needed guidance. There are lessons in this book.
In order to win this book, tell us in as few words as possible, a compelling story about your fondest family food memories. Include a recipe if possible! We'll award the book to our favourite on September 30th. Feel free to post something on Twitter as well and include our hashtag #foodists.
Good luck!