It's Worth the Drive to Whistler!
Posted by Denise Boyle on Friday, October 2nd, 2009
Tags for this Article: meat, prix fixe, restaurant review, Seafood, vancouver, Whistler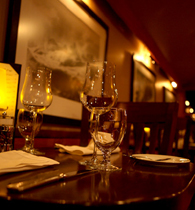 The RimRock Café has been in business since 1987 – so why have I never heard of it?  It's probably because I don't get up to Whistler very often, but that's no excuse.  Anyway, I received 2 completely unrelated recommendations in the course of a week, so last weekend I checked it out with some girlfriends. 
The verdict?  It definitely lives up to the rave reviews.  We made our reservation at the last minute, so 8:45 was all that was available.  It wasn't an issue though, and made for a nice leisurely meal since nobody else was seated after us.  The room is cozy, striking the perfect balance between comfortable and elegant, without being pretentious.  They have an extensive (but not overwhelming) menu with a 3 course prix fixe for $49 – an amazing deal! There are about 10 items to choose from for each course, so you are not at all limited, which can sometimes be the case with prix fixe.  There are add on items too and, of course, anything can be ordered a la carte.
My first course was sauteed calamari.  It was perfectly cooked and seasoned and the flavours of the accompanying hummus, olives and grilled pita triangles complimented it very well.  My second course was, arguably, my favourite – spinach salad with smoked duck.  It was served with pancetta, feta and a warm mustard vinaigrette.  The whole dish was bite after bite of creamy, salty, smoky deliciousness!  If that was the end, I would have been happy.  For the third course I chose a salmon stuffed with chevre and crab, served with seasonal vegetables.  Again, the fish was perfectly cooked and seasoned.  A bottle of Joie chardonnay helped everything go down quite nicely.
I'm not much of a dessert person, but when you're at a table with 4 girlfriends, someone is going to suggest sharing something.  We opted for the sticky toffee pudding, which was deliciously sweet with a perfect crumb.  We also couldn't resist an after dinner drink called Spring Run.  It is made with maple infused rye poured over vanilla vodka in a glass rimmed with caramel and crushed pecans – it tasted like Canada in a glass. Absolutely delicious!
 This was a fantastic meal and I wouldn't hesitate to recommend it to anyone looking for an excellent dining experience.