Fifth Town Artisan Cheese Factory
Posted by Sylvia Zygalo on Sunday, November 8th, 2009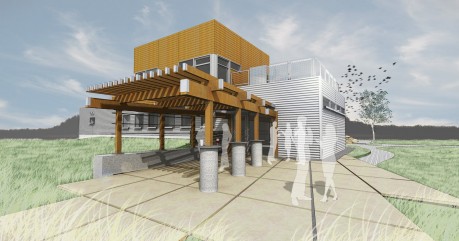 Artisan cheese & aesthetic design are not a predictable pairing, but somehow it feels appropriate for a company in practice of classic craftsmanship to blend its standards with that of sustainable architecture.
Located on twenty acres of agricultural land in Ontario, Canada, Fifth Town Artisan Cheese Factory has won numerous awards for not only their creation of sheep & goat's milk cheeses, but also in recognition of its Platinum LEED accreditation under the Leadership in Energy & Environmental Design program. They are Canada's first & only certified LEED dairy factory.
Their cheese collection consists of fresh, washed-rind, soft-ripened, hard & limited edition cheeses. My palate is particularly drawn to their lavender chèvre, maple chèvre, their Isabella & Lemon Fetish, which harnesses a creamy & natural citric zest with a red fife flour on the rind.
A panoptic awareness for not only its product but the environment of which it is made, is a synthesis of principles that will, in my opinion, carry on through time & the changes within it.